Packaging: 15 sachets, sufficient for 15 days of use
Stay healthy with an e-book and online gym - free with your purchase!
Get a free health e-book with delicious recipes and tips for forming healthy new habits. We've also developed a free 4 -week video exercise programme to tone your whole body.
Combine these with our premium Sensilab products to get in shape faster!
The ultimate skin formula that will make everyone ask about your secret! Made with hydrolysed type I collagen Naticol®, hyaluronic acid, vitamin C and bilberry extract to hydrate, firm and rebuild your skin, hair and nail cells.
Why do I need collagen & hyaluronic acid in my daily skincare routine?
Do you ever wonder what makes young people's skin so plump, smooth and elastic? It's simple: they have higher concentrations of hyaluronic acid and collagen in their skin. As we age – the process starts as soon as we hit 20! – their production naturally declines.
We start noticing this as wrinkles, dull hair and fragile nails. The skin loses its elasticity and becomes saggy and dry. Luckily, there's a way to prevent and even reverse this!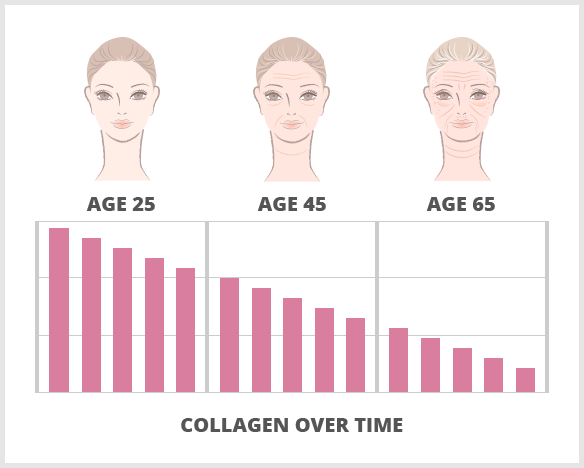 UNDO Collagen contains 2 key ingredients that are guaranteed to turn back the hands of time: collagen and hyaluronic acid.
Collagen is key for healthy skin - the most common protein in our body and the building block of skin tissues. Supplementing with high-quality collagen makes your skin youthful and glowing, and your hair and nails stronger. It helps your skin regenerate from the inside and regain its elasticity and firmness.
Hylaruonic acid is produced by our skin cells and is part of our connective skin tissues. One of its main functions is hydration – 1 gram of hyaluronic acid can bind up to 1 litre of water. This hydrates the skin and makes it plumper which is the best way of making the lines and wrinkles disappear!
An outstanding combination of collagen and hyaluronic acid for healthy skin, hair and nails
Over 70% of users say our collagen tastes and smells better than other collagen supplements on the market
Why UNDO Collagen drink?
Collagen Drink combines patented hydrolysed type I marine collagen - Naticol®, hyaluronic acid, vitamin C and blueberry extract. A unique combination of the ingredients guarantees your skin will be hydrated, have a healthy glow, your hair will be thicker and your nails stronger.
Collagen Drink contains hydrolyzed collagen in peptide form.Peptides have been shown to improve skin hair and nail quality, support joint and bone health promote digestive tract health and help with digestive issues.
We've added hyaluronic acid in the form that is easily and readily absorbed.
Vitamin C is an antioxidant that plays a crucial role in collagen formation. Our formula guarantees 100% of the recommended daily value of vitamin C.
We've added antioxidant-rich blueberry extract and a refreshing natural blueberry aroma – no fishy aftertaste!
Visible results in just 2 months!
A clinical study has shown that Naticol® (patented type I marine collagen) gives visible results after 8 weeks even in smaller doses (2.5 g per day). After taking Naticol® for 12 weeks, women experienced a reduction in wrinkle depth by 16.5%!
Studies have shown that women who took 120 mg of hyaluronic acid had significantly increased skin hydration, with effects lasting weeks after they stopped taking it.
How do I take Collagen Drink?
The recommended daily intake is 1 sachet dissolved in a glass of water (2 dl).
Ingredients (in 1 sachet):
Naticol® HPMG [type I fish collagen peptides ] 2500 mg, carrier: acacia gum, blueberry fruit puree powder 1000 mg, natural blueberry flavor, sodium hyaluronate (hyaluronic acid 120 mg), acidity regulator: citric acid, L-ascorbic acid (vitamin c 80 mg – 100% NRV*), anti-caking agent: rice fiber, sweetener: sucralose. *NRV = nutrient reference values Contains allergens: fish. Naticol® is a trademark of GELATINES WEISHARDT.
Use:
The recommended daily intake is 1 sachet. Dissolve it by stirring vigorously in 250 ml of water. Stir thoroughly to dissolve any lumps. Drink it after a meal.
Warning:
If you are hypersensitive or allergic to any of the ingredients of this product or use medication consult your doctor before use. This product is not recommended for pregnant and breastfeeding women.
Important:
The recommended daily intake should not be exceeded. Food supplements should not be used as a substitute for a varied and balanced diet and a healthy lifestyle. A diverse and balanced diet and a healthy lifestyle are important.
Storage:
Keep out of reach of children! Store in a dark and dry place at a temperature below 25°C.
Contents:
15 sachets
Net weight:
81 g