Contents: 30 Capsules for 30 days
Stay healthy with an e-book and online gym - free with your purchase!
Get a free health e-book with delicious recipes and tips for forming healthy new habits. We've also developed a free 4 -week video exercise programme to tone your whole body.
Combine these with our premium Sensilab products to get in shape faster! Strengthen + regenerate + hydrate your hair and nails
When it comes to hair and nails, no beauty treatment works as well as the one that works from the inside out. UNDO Nutrishine provides all the essential nutrients that support your body's own mechanism of regeneration with triple action:
Strengthens and protects the hair and nails​
Supports regeneration and growth
Provides hydration and maintains health
Amazing effects!
Hair and nails need nutrition and occasional support just like the rest of our bodies. With appropriate nutrition and care, your hair and nails will be able to grow back stronger and lusher.
You only need a month to see results, but you can use Nutrishine for longer - as long as you think is necessary.
When we've put our formula to the test, people loved the results: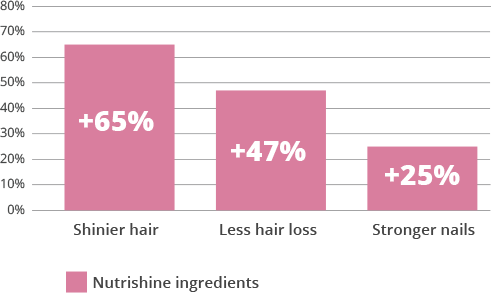 5 best-researched ingredients for hair & nail strength in 1 capsule of beauty
Unlike most nail-fortifying products, Nutrishine caps are not made with animal-derived keratin. We wanted a beauty solution that is kinder, but works even better than competing products.
As a food supplement company, we follow the strictest pharmaceutical standards AND we only use natural ingredients that are PROVEN to work by the EFSA – European Food Safety Authority.
In UNDO Nutrishine, you'll find only the best for your hair and nails:
Silica supports collagen production and keeps nails and hair in optimal condition
Hyaluronic acid which binds to water and helps retain moisture
Riboflavin or B2 supports healthy hair follicles and nail matrix
Biotin or B7 and Selenium support keratin production – the main protein found in hair and nails giving them strength and elasticity
Zinc maintains normal hair, skin and nails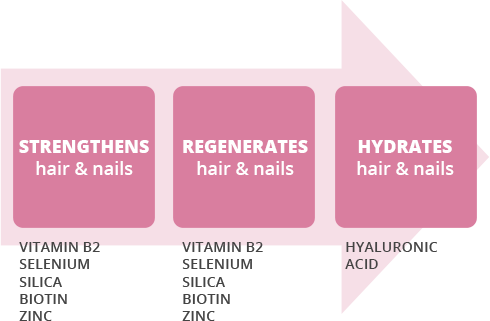 Use: Recommended daily intake is 1 capsule with a glass of water after a meal.
Warnings: If you are hypersensitive or allergic to any of the ingredients of this product or use medication consult your doctor before use. This product is not recommended for pregnant and breastfeeding women.
Important notices: Recommended daily intake should not be exceeded. Food supplements should not be used as a substitute for a varied and balanced diet and a healthy lifestyle. A diverse and balanced diet and a healthy lifestyle are important.
Storage: Keep out of reach of children! Store in a dark and dry place at a temperature below 25°C.
Ingredients (in 1 capsule): horsetail aerial parts extract with 7% silica 300 mg (silica 21 mg), sodium hyaluronate (hyaluronic acid 100 mg), zinc gluconate (zinc 10 mg – 100% NRV*), D-biotin (biotin 500 µg – 1000% NRV*), selenium enriched yeast (selenium 55 µg – 100% NRV*), black pepper fruit extract with 95% piperine 5 mg (piperine 4,75 mg), anti-caking agent: rice fiber, riboflavin (vitamin B2 2,8 mg – 200% NRV*), capsules: hydroxypropyl methyl cellulose. *NRV = nutrient reference values
Net weight: 18.9 g