Contents: 30 capsules for 30 days
Stay healthy with an e-book and online gym - free with your purchase!
Get a free health e-book with delicious recipes and tips for forming healthy new habits. We've also developed a free 4 -week video exercise programme to tone your whole body.
Combine these with our premium Sensilab products to get in shape faster! Why Essentials Magnesium?
Our marine magnesium is 100% naturally derived from sea water and guarantees quick absorption into the body. The production procedure is gentle – no chemical solvents – and ensures the best quality magnesium, as well as reduced sodium and chlorine content. It has NO additives, NO synthetic substances and is vegan certified.
Product benefits:
Reduces exhaustion and tiredness
Contributes to normal muscle function
Supports the functioning of the nervous system
Helps keep heart rhythm steady
Plays an important role in the process of cell division
Helps maintain healthy teeth and bones
Plays a role in protein synthesis
Keeps blood pressure at healthy levels
Contributes to electrolyte balance in the body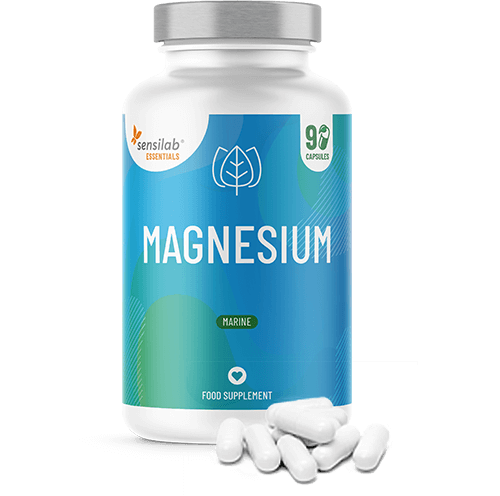 Did you know that magnesium provides better and longer sleep because of its relaxing effects on the muscles?
Sensilab Essentials Magnesium Marine is not only made from 100% natural and high-quality ingredients, but also offers other advantages that make it a high-quality mineral with proven effectiveness:
Suitable for vegans as it contains only seawater magnesium and the capsule is made from 100% natural cellulose
Contains pure and natural magnesium, which covers the daily needs of each individual
One capsule a day provides the same amount of magnesium as 12 avocados
Provides numerous positive effects when taken daily
Does not strain the liver and kidneys
Does not irritate the stomach like effervescent tablets and synthetic pills
Rapid absorption in the body - starts to work as soon as you take it
Why should you take extra magnesium?
Even under ideal conditions, your body is constantly losing magnesium - especially if you're often stressed or are physically active. If you don't get enough magnesium in your diet, magnesium deficiency can cause the following:
Muscle and joint pain
Muscle cramps
Headache and migraines
Fatigue or chronic fatigue
Sleeping difficulties
Digestion problems (diarrhoea or constipation)
Ingredients (in 1 capsules): marine magnesium (magnesium oxide) from sea water (magnesium 375 mg – 100% NRV*), anti-caking agent: magnesium salts of fatty acids, capsules: hydroxypropyl methylcellulose.
*NRV= nutrient reference value
Instructions for use: The recommended daily intake is 1 capsule after breakfast with a glass of water.
Warnings: If you are hypersensitive or allergic to any of the ingredients of this product or use medication consult your doctor before use.
Important: The recommended daily intake should not be exceeded. Dietary supplements should not be used as a substitute for a varied and balanced diet and a healthy lifestyle. A diverse and balanced diet and a healthy lifestyle are important.
Storage: Keep out of reach of children! Store in a dark and dry place at temperatures below 25°C.
Net weight: 67.2 g