Contents: 90 capsules for 90 days
Stay healthy with an e-book and online gym - free with your purchase!
Get a free health e-book with delicious recipes and tips for forming healthy new habits. We've also developed a free 4 -week video exercise programme to tone your whole body.
Combine these with our premium Sensilab products to get in shape faster! Product benefits:
Helps maintain cardiovascular health
Contributes to healthy blood pressure
Supports venous circulation and alleviates the sensation of heavy legs
Supports slimming
Maintains normal cell health & function
Improves skin health & appearance
Maintains healthy blood vessels
Supports the cell membrane from free radical damage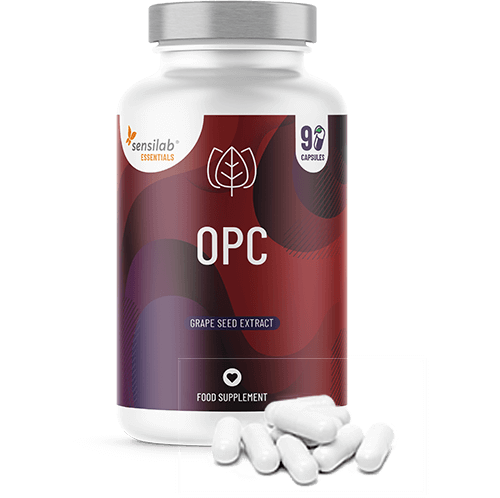 Oligomeric proanthocyanidins – what are they?
Polyphenols, OPCs in particular, are incredibly strong antioxidants. Since plants can't defend themselves from microbes, insects, harmful UV radiation, and so on, by running away or fighting, they have evolved to produce protective substances. We have learned to harness the power of these substances for ourselves.
How do they benefit me?
Polyphenols provide protection from free radical damage to all body cells and all types of tissues and organs – they go wherever they are needed most. How do they know where they are needed most? They don't – but your body does. It's so good at allocating resources that it sends them where the need for help is the highest.
Aside from antioxidant action, OPCs have also been reported to show antibacterial, antiviral and vasodilatory (widening of blood vessels) effects. They have also been found to strengthen collagen and elastin fibres – improving skin elasticity and appearance, as well as strengthening every other tissue containing it, like vessels and joints.
Why Essentials OPC?
Higher bioavailability
The patented formula Grap'Inside™ 600 contains polyphenols in monomer form. This means they have a smaller molecular size, so they get absorbed easier and offer you all the benefits in full. Up to 82% of monomers from Essentiasl OPC are absorbed, compared to 1% from generic grape seed extracts.
Grape extract from Champagne in France
Our extract comes from grape varieties that are richest in flavanol monomers: Chardonnay, Pinot Noir and Pinot Meunier. They are up to 5 times richer in highly absorbable polyphenols than other grape varieties.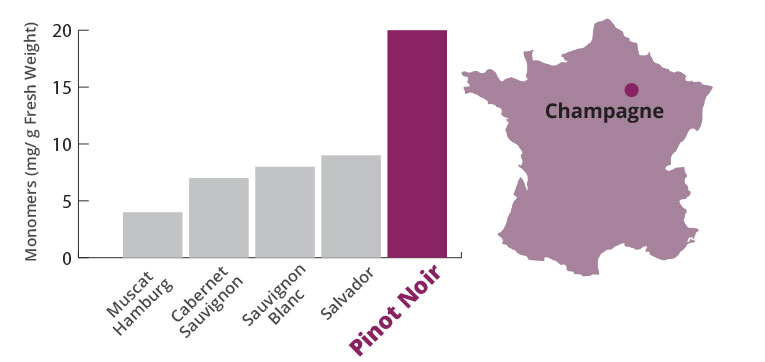 Higher polyphenol and OPC content than the rest
The product contains exactly 95% polyphenols and 60% OPC. Unlike similar products, Essentials OPC is guaranteed to contain that amount, thanks to the most accurate and precise measuring methods: Porter and HPLC.
Is Essentials OPC for me?
The extra support to your body cells and tissues is especially crucial whenever your body is dealing with huge amounts of free radicals. These harmful substances get generated under various circumstances, whenever we are:
Faced with infections
Feeling constantly stressed
Leading an unhealthy lifestyle (smoking, alcohol, sedentary lifestyle)
Lacking essential nutrients due to a poor or unbalanced diet
Food supplements.
Ingredients (in 1 capsule): Grap'Inside™ 60O [grape seed extract with 95% total polyphenols and 60% OPC] 430 mg (of which OPC 260 mg), anti-caking agent: magnesium salts of fatty acids, capsules: hydroxypropyl methylcellulose, colorant: titanium dioxide.
Use: The recommended daily intake is 1 capsule with a glass of water after a meal.
Warnings: If you are hypersensitive or allergic to any of the ingredients of this product or use medication consult your doctor before use.
Important notices: The recommended daily intake should not be exceeded. Food supplements should not be used as a substitute for a varied and balanced diet and a healthy lifestyle. A diverse and balanced diet and a healthy lifestyle are important.
Storage: Keep out of reach of children! Store in a dark and dry place at a temperature below 25°C.
Net weight: 42.9 g