Contents: 90 capsules for 90 days
Stay healthy with an e-book and online gym - free with your purchase!
Get a free health e-book with delicious recipes and tips for forming healthy new habits. We've also developed a free 4 -week video exercise programme to tone your whole body.
Combine these with our premium Sensilab products to get in shape faster! B12 and folic acid are crucial for your body!
The metabolism of every cell in the body depends on vitamin B12, because it plays a part in energy production. Your body produces millions of red blood cells every minute. These cells cannot multiply properly without vitamin B12. If B12 levels get too low, the production of blood cells reduces - this can result in anaemia.
We've also added folic acid – together with Vitamin B12 it forms DNA and RNA in our bodies. These are required for the growth of cells and new cell formation throughout our bodies. With regular intake of B12 you will feel your best every day!
Contributes to:
Normal immune system function
Reduction of tiredness and fatigue
Normal energy-yielding metabolism
The process of cell-division
Normal nervous system function
Normal homocysteine levels – key for heart health
Normal amino-acid synthesis
Normal red blood-cell formation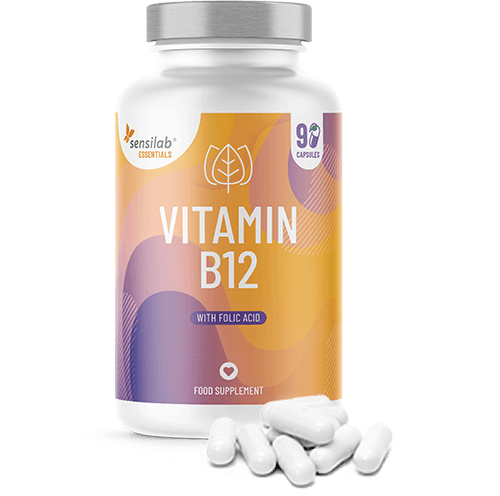 Who needs additional vitamin B12?
Taking 100 µg vitamin B12 is suitable for:
Vegans and Vegetarians - Since B12 only comes from animal products, vegans and vegetarians face a very high risk of vitamin B12 deficiency. Prevalence of deficiency ranges from 7% of the EU population 3 years and older to 90% among vegans!
Older people - Experts estimate that up to 20% of those over 50 have low levels of vitamin B12 as our ability to absorb nutrients decreases with age.
People taking certain medications to lower blood sugar or polycystic ovary syndrome - Metformin, a medicine, can affect vitamin B12 absorption in the small intestine. Therefore, supplementation is critical when taking this medication.
People suffering from Crohn's disease or gluten intolerance - these conditions worsen the absorption of vitamin B12 in the intestine.
Pregnant and lactating mothers - The daily need for vitamin B12 is higher in pregnant and lactating mothers.
People under a lot of stress - An increased stress level can ensure that your B12 reserves are used up heavily.
What happens if we don't take enough B12?
B12 deficiency can sometimes be difficult to diagnose due to quite general symptoms. Folic acid can mask vitamin B12 deficiency for quite a while, since they both have a lot of the same roles in the body. By the time you run out of B12 reserves, neurological symptoms (such as tingling) tend to show up first. Other symptoms are fatigue, memory problems, psychological problems (including depression), anemia and constipation.
Depending on a person's vitamin B12 reserves, it can take several years until the body's reserves are used up, which is why many people do not associate their deteriorating health with a change in diet.
Why Sensilab Essentials B12?
MADE FOR EVERYONE - Small and easy to swallow capsules are designed for men and women of all ages. It's also suitable for vegans and vegetarians. While vitamin B12 only comes from either animal sources (meat, dairy and eggs) or bacterial fermentation – ours is sourced from the latter.
PREMIUM QUALITY - At Sensilab Essentials we want to provide you with the highest quality natural ingredients: B12 and folic acid (B9) that have vital role in cell growth and development through many reactions and processes that occur in our bodies. All suppliers of our active ingredients are based in EU.
100% MONEY BACK GUARANTEE - If you are not satisfied with the product, you can return the package within 30 days and we will refund the purchase price. We stand behind our B12.
Food supplement.
Ingredients: bulking agent: acacia gum, cyanocobalamin (vitamin B12 100 µg – 4000% NRV*), anti-caking agent: magnesium salts of fatty acids, pteroylmonoglutamic acid (folic acid 400 µg – 200% NRV*), capsules: hydroxypropyl methylcellulose, colorant: titanium dioxide.
*NRV= nutrient reference value
Use: The recommended daily intake is 1 capsule with a glass of water after a meal.
Warning: If you are hypersensitive or allergic to any of the ingredients of this product or use medication consult your doctor before use.
Important: The recommended daily intake should not be exceeded. Food supplements should not be used as a substitute for a varied and balanced diet and a healthy lifestyle. A diverse and balanced diet and a healthy lifestyle are important.
Storage: Keep out of reach of children! Store in a dark and dry place at a temperature below 25°C.
Net weight: 44.6 g