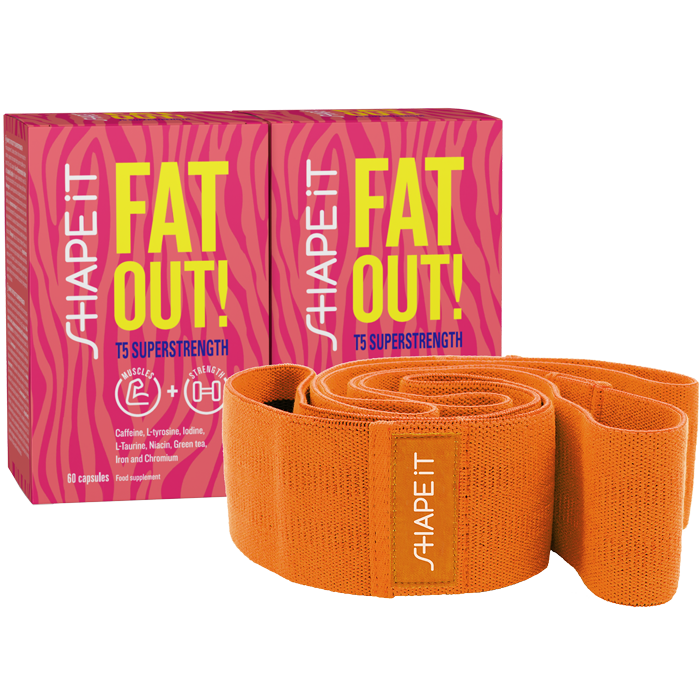 *Disclaimer: The effects of the product may vary between individuals and could differ from those described on the website.

FREE GIFT!
Get the best health tips, nutritional advice and delicious recipes in one hand e-book!

Effective all-in-one weight-loss capsules
Fat OUT T5 Superstrength 2-Pack + Exercise Band
Lose weight fast with Fat Out! T5 SUPERSTRENGTH. Just 2 capsules a day for a superstrong 5-in-1 weight-loss action:
Burn significant amounts of fat day in, day out – thanks to the long-lasting thermogenic effect

Elevate your energy levels and say hello to the new you

Reduce tiredness and fatigue

Boost your metabolism and say goodbye to excess weight

Support your thyroid and the normal production of thyroid hormones

With L-tyrosine, caffeine, iron, taurine and green tea for maximal effects

We guarantee you'll love the product, or it's yours for FREE

Over 15 years of expertise in food supplement development and production 
Sensilab has more than 2,600,000 happy customers all over Europe. 
FREE GIFT: SHAPEiT Band - it won't slip or roll! Intermediate level of resistance – suitable for everyone! 
Contents: 1x Fat OUT T5 Superstrength 2-Pack + Exercise Band 120 nones/ days
-

50

% discount

+ Free delivery
Free delivery
Special price
£29.90
Regular price
£59.80
Are you wondering what the most effective way of losing extra pounds is? You won't find a faster solution anywhere else! T5 fat burners are known for their extra strong thermic action which means that they offer outstanding effects in a short period of time. T5 SUPERSTRENGTH is especially exceptional because its effects can be multiplied by 5!
In addition to accelerating fat loss and supplying you with extra energy, it also prevents hunger attacks, boosts metabolism and regulates hormone action for the fastest possible weight loss effect.
What's the secret to its efficacy: it soothes physical and mental stress
Our team of scientists have picked the best combination of ingredients that offer maximum synergistic effect. But T5 SUPERSTRENGTH deserves the title of weight a loss capsule with super powers because of a very special reason: it soothes physical and mental stress.
When we're under stress (physical or mental) it's almost impossible to lose weight. Studies have shown that we eat up to 1000 calories more when we're under stress and tired. In addition to that fat loss slows down considerably when we're not feeling safe and relaxed.
With the combination of 8 top quality ingredients T5 SUPERSTRENGTH will relax you and, at the same time raise your energy levels sky-high.
A universal fat burner, enriched with iron, iodine, chromium and vitamin B3
T5 SUPERSTRENGTH is a 5-in-1 weight-loss capsule that will:
make your efforts at the gym extra effective (it will accelerate fat burning and give you the strength for longer and more efficient sessions)
trick your body into burning fat even though you won't be physically active
help all women who suffer from low energy levels, hormonal problems or iron deficiency
help you get bigger muscles and a nicely sculpted body as well as boost your metabolism
reduce the level of physical and mental stress and prevent your weight loss progress from stagnating
Synergistic effect of 8 natural ingredients designed to help you in 5 different ways
Boost your metabolism and fat loss with caffeine (Coffeine™) and green tea extract (Phytofare™)
This combination of patented caffeine and green tea will boost your metabolism, fill you with energy and prevent storing of fat.
Lipofer™ for raising energy levels
Lipofer™ is a patented form of iron with better absorption than regular iron, which means that your body will utilise it better. More oxygen will get to the cells in your body and you'll be able to burn fat and sculpt your body faster.
Brown seaweed extract and L-tyrosine for hormonal balance
The brown seaweed is rich in iodine. Iodine ensures normal thyroid and hormone function. In combination with amino acid L-tyrosine, which is also crucial for thyroid hormone production, it will make weight loss easier. Many people can't lose weight due to less than optimal thyroid function. We've kept them in mind too!
B3 and chromium are natural appetite suppressants
Vitamin B3 or niacin is key to a well functioning metabolism and the process of turning fat into energy. It plays a role in more than 60 different reactions that help turn food into energy! Because it also takes care of nervous system function, you'll notice more stable mood, fewer emotional hunger attacks and feeling full longer.
To make this effect even stronger, we've added chromium to our super-powered capsules. Its effects on maintaining blood have been scientifically proven. Why is this good for you? You'll have fewer cravings for sweets, carbohydrates and highly caloric foods.
L-taurine for protection from free radicals and stress
This amino acid maintains electrolyte balance and body hydration, it's crucial for bile production (bile is needed for digestion of fat and fat soluble vitamins (A, D, E and K)), it removes toxins from our body and protects our cells.
Boost the efficiency of your workouts with SHAPEiT Band!
Great for all fitness levels due to 

intermediate resistance

High-quality cotton and elastic fibres

 for 

maximum comfort

Wider design

 and 

rubber straps

 make sure it stays in place

Tone your glutes, legs and upper body
More Information

| | |
| --- | --- |
| What's in it? | What's in it? |
| Bundle | Yes |
| Google-only long description | T5 fat burner - with 5 in 1 superpowers: burns fat, prevents fat from being stored, elevates energy levels, boosts metabolism and suppresses appetite. Fat Out! T5 Superstrength for super-strong 5-in-1 weight-loss effects: burns significant amounts of fat day in, day out – thanks to the long-lasting thermogenic effect, elevates the energy levels, reduce tiredness and fatigue, speeds up metabolism and balance the hormone levels to say goodbye to excess weight. Enriched with iron, iodine, chromium and vitamin B3- the best combination of ingredients that offer maximum synergistic effect. But Fat Out! T5 Superstrength deserves the title of fat burning pills with super powers because of a very special reason: it soothes physical and mental stress. T5 fat burners are known for their extra strong thermic action which means that they offer outstanding effects in a short period of time. Fat Out! T5 Superstrength is especially exceptional because its effects can be multiplied by 5. |
| Remove from Google remarketing | No |
| Google Free shipping | No |
| Remove from FB remarketing | No |