Packaging: 30 capsules for 30 days
Stay healthy with an e-book and online gym - free with your purchase!
Get a free health e-book with delicious recipes and tips for forming healthy new habits. We've also developed a free 4 -week video exercise programme to tone your whole body.
Combine these with our premium Sensilab products to get in shape faster!
Did you know that iron deficinecy is the most common mineral deficiency, especially among women? Important for the formation of red blood cells and hemoglobin Supports the immune system Helps maintain normal cognitive function Helps reduce fatigue Plays an important role in cell division
Iron deficiency is very common. How do I know I need to supplement? The most common symptoms of iron deficiency are fatigue and exhaustion. Other symptoms are:
Lack of colour in the face, excessive fatigue after low-effort tasks
Frequent infections, difficulty concentrating
Low resistance to colds, cold feet and hands, unusual cravings
30% of the world's population suffers from anemia - in most cases, iron deficiency is the reason. Women are more vulnerable than men.
Anemia (hemoglobin levels lower than normal) can have a negative effect on several functions of the body. Why? Every cell in the body needs oxygen. Oxygen is transported by red blood cells and in the case of anemia, this process can be slowed down significantly.
As a consequence, the heart will pump more intensely, leading to arrhythmia, and in extreme cases to an enlarged heart and other complications.
WHY IS ALL IN A DAY LIPOSOMAL IRON BETTER THAN OTHER PRODUCTS?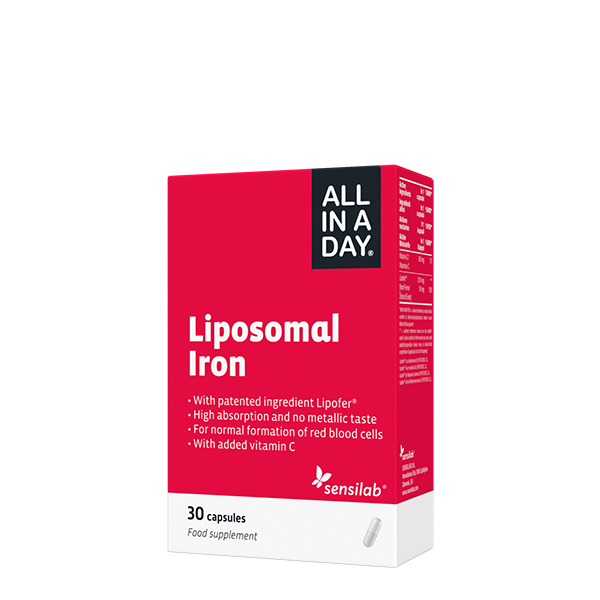 ALL IN A DAY Liposomal Iron has a higher absorption rate compared to similar products. This is due to a special patented form of the product, microcapsulated iron in liposomal form. The liposomal form doesn't cause irritation of the intestinal tract, does not cause constipation or dizziness, and has no metallic aftertaste.
Our formula does not contain any artificial colourants, flavours or preservatives.
To increase the absorption rate, we added vitamin C to the formula.
Do not consume more than the recommended daily dose. If you consume other supplements (zinc, magnesium, calcium, copped), make sure you do not consume them at the same time - they will compete for absorption. For example, take magnesium in the morning and iron in the the afternoon.
30-day guarantee on satisfaction
If you aren't satisfied with the product, you can return the box to us within 30 days, in accordance with our satisfaction guarantee, and we will refund you.
Handled, shipped and delivered in 3-5 working days.
Ingredients (in 1 capsule): liposomal iron [corn starch, iron pyrophosphate, sunflower lecithin] (iron 18 mg - 128.6% RDA *), bulking agent: acacia gum, L-ascorbic acid (vitamin C 60 mg - 75% RDA) *), anti-caking agent: magnesium salts of fatty acids, capsules: hydroxypropyl methylcellulose, color: titanium dioxide.
*NRV = nutrient reference values
Use: Recommended daily intake: 1 capsule with a glass of water after meal.
Warnings: If you are hypersensitive or allergic to any of the ingredients of this product or use medication consult your doctor before use.
Important notices: Recommended daily intake should not be exceeded. Dietary supplement should not be used as a substitute for a varied and balanced diet and a healthy lifestyle. A diverse and balanced diet and a healthy lifestyle are important.
Storage: Keep out of reach of children! Store in a dark and dry place at a temperature below 25°C.
Net weight: 16.6 g
ALL IN A DAY Liposomal Iron