Misija sanjska postava uspešno zaključena!
Izdelki so že tisočim uporabnikov pomagali: pospešiti presnovo in izboljšati prebavo
zmanjšati vidnost celulita in zadrževanje vode
pokuriti maščobo na težavnih mestih
uspešno shujšati in vzdrževati težo
HOW DOES IT WORK
The bundle combines our most powerful weight-loss and detox products and will help you reach your goals in just 2 months! Just 3 simple steps:
STEP 1: Detox
For the first 20 days, our best-selling tea duo Live&Slim Tea and Sleep&Slim Tea will help rid your body of harmful toxins, stimulate the metabolism, reduce bloating and increase energy levels.
AquaSlim EXTREME will help drain your body of excess water weight and reduce cellulite, while CiderFit will inhibit appetite and reduce fat absorption.
Our FREE massage brush is invaluable in the fight against cellulite.
STEP 2: SLIM DOWN
Once you've successfully detoxed your body, losing weight will be much easier! Slimmiccino, our delicious slimming coffee drink, promotes weight loss, inhibits cravings and prevents new formations. All thanks to Garcinia Cambogia, Guarana and green coffee!
NightBurn EXTREME will ensure even more effective fat burning - even during sleep!
One of our most popular products, AdipoSlim EXTREME, will boost fat burning and target stubborn fat reserves around the waist, the abdomen and the thighs.
STEP 3: GET ACTIVE<
For the last 15 days, focus on a little movement. You can find a whole exercise programme in our free online gym. With the help of our FatBurn EXTREME, you'll maximise the effects of your workouts.
After a workout, there's nothing better than our new Shake'n'Shape Slimming Protein Shake. Rich in protein, low in calories and full of valuable vitamins to keep you feeling fit, healthy and full for longer.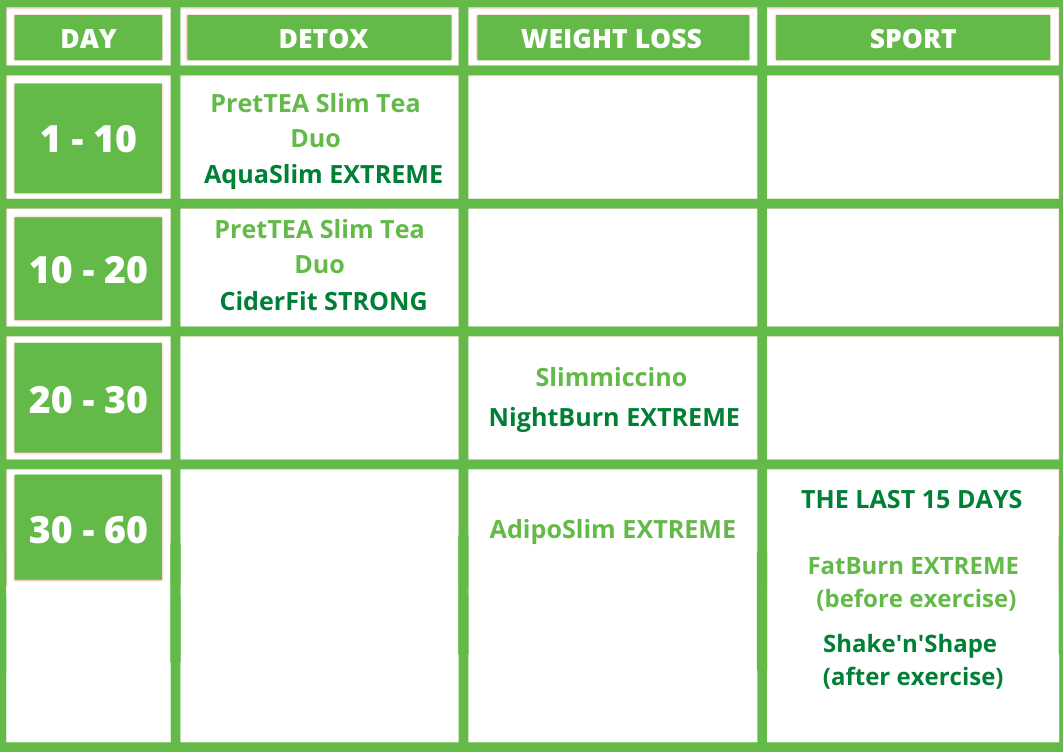 WHAT'S IN THIS BUNDLE?
Only top-quality products, from natural ingredients, perfect for weight loss, detoxification and general wellbeing.

30-day guarantee on satisfaction
If you aren't satisfied with the product, you can return the box to us within 30 days, in accordance with our satisfaction guarantee, and we will refund you.
Handled, shipped and delivered in 3-5 working days.
Warning:
If you are hypersensitive or allergic to any of the ingredients of this product or are taking medicines, talk to your doctor before use. This product is not recommended for pregnant or breastfeeding women.
Important:
Recommended daily intake should not be exceeded. Food supplement should not be used as a substitute for a varied and balanced diet and a healthy lifestyle. A diverse and balanced diet and a healthy lifestyle are important
STORAGE:
Keep out of the reach and sight of children! Store in a dark and dry place at temperatures up to 25° C.
Mission: Dream Body + 2 FREE gifts + FREE shipping [60-Day Bundle]