Stay healthy with an e-book and online gym - free with your purchase!
Get a free health e-book with delicious recipes and tips for forming healthy new habits. We've also developed a free 4 -week video exercise programme to tone your whole body.
Combine these with our premium Sensilab products to get in shape faster!
LOSING WEIGHT WITH COFFEE? YES PLEASE!
We packed our delicious coffee drink full of the best weight loss helpers - green coffee bean, Garcinia Cambogia, guarana seed, instant coffee and chicory fibre that will:
Help control cravings and hunger
Boost the metabolism
Speed up weight loss
Give you a gentle shot of energy – without jitters or a caffeine crash afterwards!
Keep you feeling full thanks to its fibre content
HOW DOES IT WORK?
We took the magic of coffee and infused it with even more magical ingredients - the waist shrinking kind!
Thanks to a unique combo of ingredients you won't find anywhere else, Tummyccino will enrich your life with its creamy flavour (enjoy it hot or iced!) while helping you shed those pounds:
Garcinia Cambogia will eliminate your cravings and reduce fat storage

Guarana seed extract that will boost your energy levels and fat metabolism

Green coffee bean with chlorogenic acid that's been shown to boost fat loss

Instant coffee to keep you alert and energised

Chicory fibre with inulin that acts as food for good bacteria in the gut
Unlike similar products, Tummyccino's effect will last much longer and won't give you that post-caffeine crash.
Why Tummyccino is better than regular instant coffee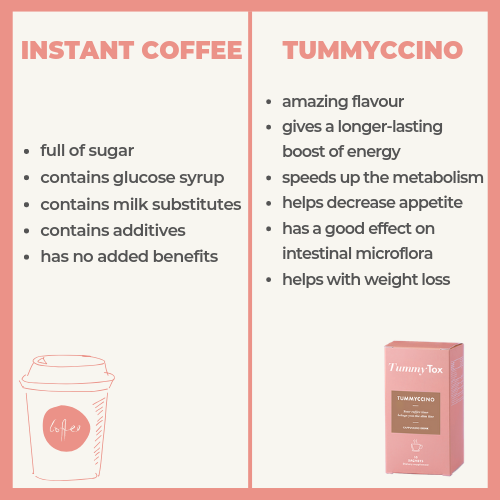 Have a cup of Tummyccino in the morning for that boost of energy or drink it in the afternoon instead of dessert! It will help curb food cravings and boost weight-loss progress!
Ingredients: instant coffee powder with 3-5% caffeine, chicory inulin with 86% soluble dietary fibre, garcinia fruit extract with 60% hydroxycitric acid, green coffee bean extract with 50% chlorogenic acid and max. 2% caffeine, guarana seed extract with 10% caffeine, cappuccino flavour, anti-caking agent: rice concentrate, sweetener: sucralose.
Instructions for use: The recommended daily intake is 1 sachet (4.5 g of powder). Dissolve it by stirring vigorously in 100 ml of hot water. You can leave it to cool off or add ice to serve chilled. Stir thoroughly to dissolve any lumps. Drink it during the morning.
Warning: If you are hypersensitive or allergic to any of the ingredients of this product or use medication consult your doctor before use.
Important: The recommended daily intake should not be exceeded. The dietary supplement should not be used as a substitute for a varied and balanced diet and a healthy lifestyle. A diverse and balanced diet and a healthy lifestyle are important.
Storage: Keep out of reach of children! Store in a dark and dry place at a temperature below 25°C.
Net weight: 45 g