What you can expect! Optimised digestion More fat burned
Visible slimming effects
Less cravings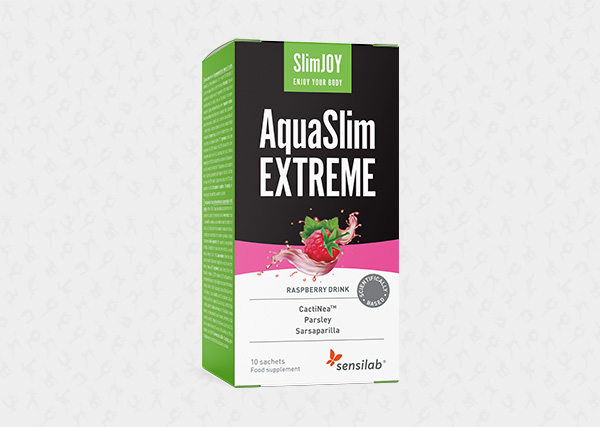 Step 1 - AquaSlim EXTREME
Take the refreshing raspberry drink with 1 litre of water the morning. It will:
Reduce bloating and swelling
Relieve you of excess water
Diminish appearance of cellulite
Unclog your lymphatic system
Detox your organism
It contains prickly pear, sarsaparilla, horsetail, Java lead, artichoke, red grape, milk thistle and dandelion extracts. Step 2 - CiderFit STRONG
Have a delicious apple flavoured drink after a meal of your choice. It will:
Grab onto fats from food in your gut and carry them out, without them being absorbed
Keep you fuller, longer
Diminish your cravings
Reduce the number of calories eaten in a day
It contains apple cider vinegar, patented kiwifruit extract, chicory, malva, burdock root and prickly pear extracts. We've added vitamin C to keep you feeling energised!
30-day guarantee on satisfaction
If you aren't satisfied with the product, you can return the box to us within 30 days, in accordance with our satisfaction guarantee, and we will refund you.
Handled, shipped and delivered in 3-5 working days.
Food Supplement
INGREDIENTS:
AquaSlim EXTREME
Prickly pear fruit powder with 0.05% betalains and 0.03% indicaxanthin, horsetail aerial parts extract, carrier: corn dextrin, sarsaparilla root extract, Java tea leaf extract with 2% potassium, raspberry fruit juice concentrate powder, natural raspberry flavour, acidity regulator: citric acid, artichoke leaf extract with 2-5% cynarin, milk thistle dried fruit extract, dandelion root extract with 3-5% chlorogenic acid and 12% inulin, red whole grape extract with 75% total polyphenols and 50% OPC (content of sulphites >10 mg/kg), anti-caking agent: rice concentrate, sweetener: sucralose.
CiderFit STRONG
chicory inulin with 86% soluble dietary fibres, kiwi fruit powder with 4500 AU of actinidin, burdock root extract, malva flowering top extract, apple cider vinegar powder with 5-6% acetic acid, natural apple flavour, prickly pear cladode juice extract with 40-60% total polysaccharides, sodium L-ascorbate, acidity regulator: citric acid, anti-caking agent: rice concentrate, sweetener: sucralose.
HOW TO USE:
AquaSlim EXTREME
The recommended daily intake is 1 sachet dissolved in 1 litre of water and drunk throughout the morning.
CiderFit STRONG
The recommended daily intake is 1 sachet (5 g). Dissolve it by stirring vigorously in a glass of water (preferably 250 ml) after meal. Stir thoroughly to dissolve any lumps.
WARNING:
If you are hypersensitive or allergic to any of the product ingredients or use medication, consult your doctor before use. This product is not recommended for pregnant or breastfeeding women.
IMPORTANT:
The recommended daily intake should not be exceeded. Dietary supplements should not be used as a substitute for a varied, balanced diet and a healthy lifestyle, which are important.
STORAGE:
Keep out of the reach of children! Store in a dark, dry place at temperatures below 25°C.
Net weight:
AquaSlim EXTREME: 70 g
CiderFit STRONG: 2x 50 g
20-Day Fast Slimming Bundle