Content: 2 x 30 capsules of Hepafar forte, 1 x 15 Hepafar fiber sachets
Stay healthy with an e-book and online gym - free with your purchase!
Stay healthy and get fit with our combo of health tips and online video exercises. It's time to become the best - and healthiest - version of yourself!
Our health and nutrition e-book includes tips on how to stay healthy, a guide to immune-boosting food and a ton of delicious recipes. It's free with every purchase!
Additionally, we've developed a completely free 4-week video exercise programme that balances different types of exercise to tone your whole body! With all that and the addition of top quality Sensilab supplements, you're guaranteed to get in shape!
Up to 22 million people in the UK have a fatty liver
Everyday stress, lack of sleep, heavy foods, alcohol, smoking, not enough exercise… all of these can put a burden on your liver to the point where it starts to get fatty. The problem is, most people don't realise they have a fatty liver.
What do you do when you get a headache? Most of us will take a painkiller. And what do you do if you have fatty liver? Nothing. When you have a headache, you feel pain. You know something is wrong, so you take action. But the liver has no nerves. It doesn't hurt.
Since fatty liver is a condition that doesn't hurt, we do nothing.
More than 500 key functions
We aren't truly fully aware of how important the liver is. We all know where our heart is, what it does and we know we can't live without it. But do you know where the liver is and what it does? Do you know that we cannot survive without it? If the liver fails, we only have 3 days to live, maximum!
And while we can get an artificial heart implanted, the same doesn't hold true for the liver. It has more than 500 crucial functions, a lot of which we know very little about.
The liver doesn't hurt, but it does send distress signals
People with overburdened liver can experience:
feeling tired all the time,
increased stomach circumference (big belly),
problems losing weight,
low energy levels,
irregular digestion,
Increased cholesterol and triglyceride levels, and so on.
The best for your liver health
Because we wanted to offer you the very best solutions for liver health, we've developed Hepafar Forte capsules. They have triple action:
Designed to provide a natural liver cleanse and aid in the effective breakdown and elimination of toxins from the liver and the body,
Help regenerate liver cells and optimise their function
Help fortify the liver so it can more effectively handle environmental toxins.
10 times stronger effect – scientifically proven
Hepafar Forte contains a patented form of milk thistle extract (silybin). Because the liver can't utilise milk thistle to its full potential, we've encased it in phospholipids. You can imagine it as a microscopically tiny oil droplet.
It allows our liver to use the milk thistle up to 10 times more efficiently, which ensures a 10 times stronger liver cleanse compared to similar products.
Make sure toxins leave your body for good
Hepafar Forte is designed to cleanse the liver. It's also necessary for toxins to leave the body, or else they'll just return to the liver. Water soluble acacia fiber from Hepafar Fibers drink plays a crucial role in this process.
When we have a Hepafar Fibers drink, the acacia fiber binds toxins and cholesterol that were eliminated by the liver during the detox. The fiber helps toxins leave your body and thus helps prevent fatty liver disease.
What can I do in 1 month?
In 1 month the liver can regenerate considerably, but only under 2 conditions:
the liver is no longer bombarded with toxins, meaning, changes to diet, lifestyle and stress levels were made.

the cleanse is enhanced with Hepafar capsules and Hepafar Fibers drinks.
If you want to strengthen your liver and have long terms results, you will need a longer, 3-month cleanse.
Our customers have sworn by Hepafar for half a decade
Hepafar is a solution that many of our customers swear by. We are constantly improving the basic formula - in line with new pharmaceutical discoveries and possibilities offered by modern science. Hepafar is impressing more and more users.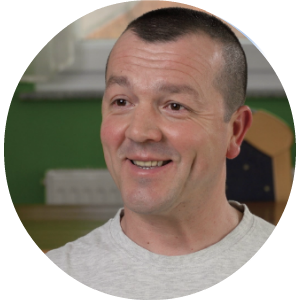 One satisfied user is James, who with the help of Hepafar got rid of the extra kilos that had accumulated around his stomach. He says he had gained a lot of weight in recent years. After several months of taking Hepafar and changing his eating habits, he was very surprised to be able to wear smaller sizes again!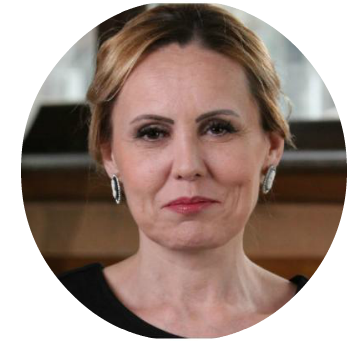 Doctors told 44-year-old Sonia that she needed to lower her cholesterol if she did not want to be taking medication for the rest of her life. She searched online for a natural solution and opted for Hepafar Forte. Within a few months, she had lowered her cholesterol level and lost weight.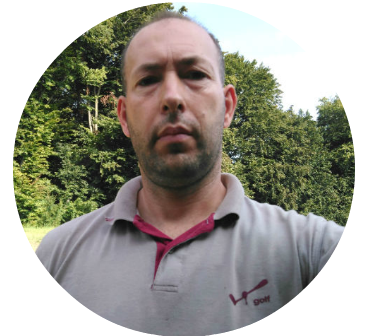 "I have a sweet tooth", Zach tells us. He struggled with his weight, felt bloated and had little motivation. He went online to find the root cause of the problem. He never drank alcohol so he had no idea that it was a liver problem. After several weeks of using Hepafar products, he noticed significant changes. "First of all, I didn't feel bloated anymore, I felt more motivated at work and I felt lighter as well", he says with a smile.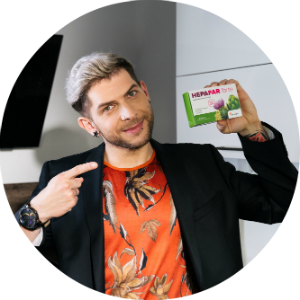 Klemen was impressed by Hepafar Forte: "Hepafar Forte helped me recover from a long summer with many unhealthy meals. It restored my concentration and energy. I am much happier."
Instructions of Use for the 1-Month Hepafar Bundle
For the first 15 days of detoxing: After breakfast, take 1 capsule of Hepafar forte and drink 1 sachet of Hepafar fiber dissolved in a glass of water. After dinner, take 1 capsule of Hepafar forte.
Next 15 days: Take 1 capsule of Hepafar Forte after breakfast and 1 capsule after dinner. So 2 capsules a day.
HEPAFAR FORTE
Ingredients (in 2 capsules/daily dose): HEPAforte complexTM [artichoke leaves extract with 2,5% cynarin 700 mh, silybin-phosphatidylcholine complex with 29-37% silybin 160 mg, D-alpha-tocopheryl acid succinate (vitamin E 48 mg – 400% NRV*), black pepper fruit extract with 95% piperine10 mg], bulking agent: acacia gum, anti-caking agent: rice concentrate, capsules: hydroxypropyl methylcellulose.
*NRV = nutrient reference values
Warning: If you are sensitive or allergic to any of the ingredients in this product, or if you are taking any medication, consult your doctor before use. The product is not recommended for pregnant or breastfeeding mothers.
Important: The recommended daily intake should not be exceeded. The dietary supplement should not be used as a substitute for a varied and balanced diet and a heathy lifestyle. A diverse and balanced diet and a healthy lifestyle are important.
Storage: Keep out of reach of children! Store in a dark and dry place at temperatures below 25°C..
Net weight: 2 x 22.6 g
HEPAFAR FIBERS
Ingredients: Acacia gum with 90% soluble dietary fiber – 7100 mg, lemon fruit concentrate powder – 1000 mg, chicory inulin with 88% soluble dietary fiber – 1000 mg, rosemary leaf extract with 7% rosmarinic acid – 500 mg, natural lemon flavour, acidity regulator: citric acid, anti-caking agent: rice concentrate, sweetener: sucralose.
Use: The recommended daily intake is 1 sachet dissolved in a glass of water, preferably in the morning. Since the products contains no emulsifiers, some clumps may appear at first, so it must be stirred for a few minutes.
Warning: If you are hypersensitive or allergic to any of the product ingredients or use medication, consult your doctor before use. This product is not recommended for pregnant or breastfeeding women.
Important:The recommended daily intake should not be exceeded. Dietary supplements should not be used as a substitute for a varied, balanced diet and a healthy lifestyle, which are important.
Storage: Keep out of the reach of children! Store in a dark and dry place at temperatures below 25°C.
Net weight: 150 g