Healthy breakfast - Power for starting the day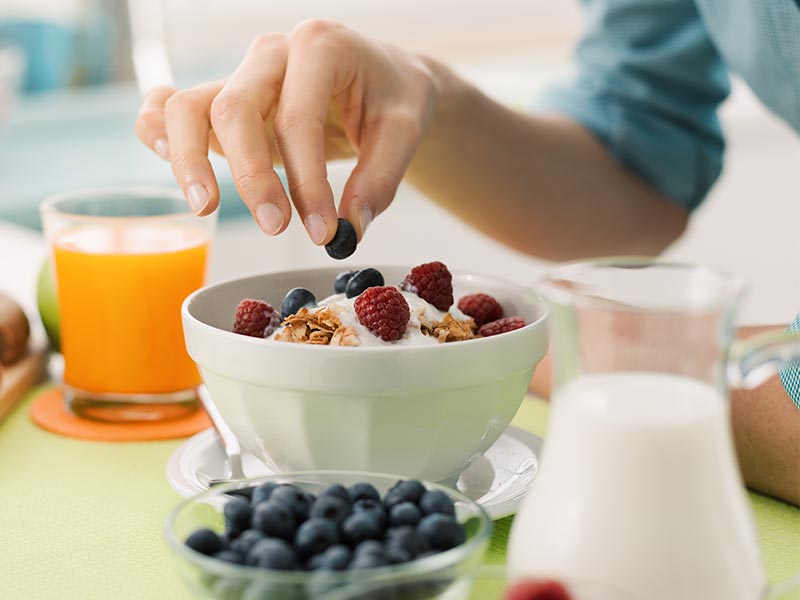 A healthy breakfast can make your start into the day a little easier. You will feel fitter, more concentrated and more powerful. Perhaps you will even be inspired to perform at your best. Why not try out our healthy breakfast recipes right now? Losing weight and enjoying it are not mutually exclusive!
Healthy cereal
Many cereals are merely sweet calorie bombs hidden under the cover of a supposedly healthy breakfast. In fact, many instant cereals contain a lot of sugar or sweetening fruits such as dried dates and raisins, which are rich in fructose. Why not make your own cereals? Then you'll know exactly what's in it. And everything is just the way you like it.
Cereal flakes such as oat flakes, spelt flakes or millet flakes form a good base with plenty of fibre - so you stay full for a long time and get plenty of energy. Now you can get creative! Refine the muesli with different ingredients:
Chia seeds or linseed (contains a lot of Omega-3)
exotic coconut flakes
strong pumpkin seeds or pine nuts
whole, crushed or roasted nuts such as walnuts, brazil nuts or almonds with plenty of unsaturated fatty acids that stimulate the brain
or fresh fruit like blueberries, raspberries, strawberries, bananas or apples


Perfect match: Yogurt, milk or vegan, lactose-free almond milk or soy milk. The warm variant: Boil oat flakes with a little milk for a few minutes and serve as a creamy porridge with seeds, nuts and fruits.
Healthy food on bread
If you want to start the day with a bounce, you should try light vegetable spreads for bread and rolls. They are low in calories, fat and vitamins - and taste delicious. It is better to avoid sausage, cheese and jams. They are bursting with fat and sugar and are also heavy on the stomach.
You can buy sophisticated vegetable spreads or easily make them yourself: Exotic hummus is made from chickpeas, sesame paste, olive oil and garlic. Or how about a spicy spread of grilled peppers, aubergines and herbs? If you like it sweet, you can feast on nut butter made from almonds, macadamia nuts or brazil nuts without a guilty conscience.
Smoothies and shakes
Smoothies are freshly prepared drinks made from fruit and vegetables, directly from the blender or juicer. They provide the body with important vitamins, minerals, fibre, vital substances, enzymes and antioxidants and are therefore a real morning pick-me-up. Depending on the recipe, the ingredients vary of course. Pure fruit smoothies taste wonderfully sweet - but they also contain a lot of fructose.
Green smoothies are much more digestible. As the name suggests, they contain mainly the colouring green vegetables such as avocado, cabbage, spinach and parsley, which are then mixed with sweet fruit. Green vegetable smoothies are rich in fibre and the power of plant green: they provide energy, make for radiant skin and are popular with athletes and people who want to lose weight. Because they contain little fruit acid, unlike fruit smoothies, many find them easier to digest.
Great smoothies creations are for example:
Carrot and Orange Ginger
Spinach-Celery-Apple
Spinach-pineapple-coconut water-banana


Or try a shake made from fruit and high-protein milk, soy milk or yoghurt. A real power protein shake, for example, is the soy milk peanut butter and banana shake. If you like, you can enrich this shake with additional protein powder to support the muscle build-up even better.
Forget traditional conventions
There are many hearty breakfast creations that are very healthy. Make the most of it and combine vitamin-rich vegetables with protein-rich fish, eggs and tofu or fibre-rich rice or wholemeal bread to suit your taste.
What sounds like lunch at first glance also makes a very good breakfast. Forget traditional conventions. Do you feel like a hearty salmon-avocado wholemeal bread or a spicy scrambled egg with green asparagus? Great. Then dig in. Fill your energy stores with these valuable nutrients. You'll stay full of them for a long time and feel fewer ravenous hunger pangs throughout the day.
Are you afraid of working long hours in the kitchen in the morning? You can prepare many dishes the evening before and simply warm them up in the morning. Or you can have all the ingredients ready to hand the night before so that you don't have to search for them in the morning. Then all you have to do is concentrate on preparing - and on enjoying. 
Water is pure life force
Drink a large glass of water at breakfast to replenish your thirsty cells. This boosts your metabolism and your brain and muscles are once again optimally supplied with oxygen and nutrients. You can concentrate better and feel fitter. This is noticeable at work and also during exercise.
If you find simple water too boring, you can spice it up with fresh limes, peppermint, lemon balm or ginger. Unsweetened herbal and fruit teas are also suitable.