Healthy grilling - Part 2: Rich in vitamins and vital substances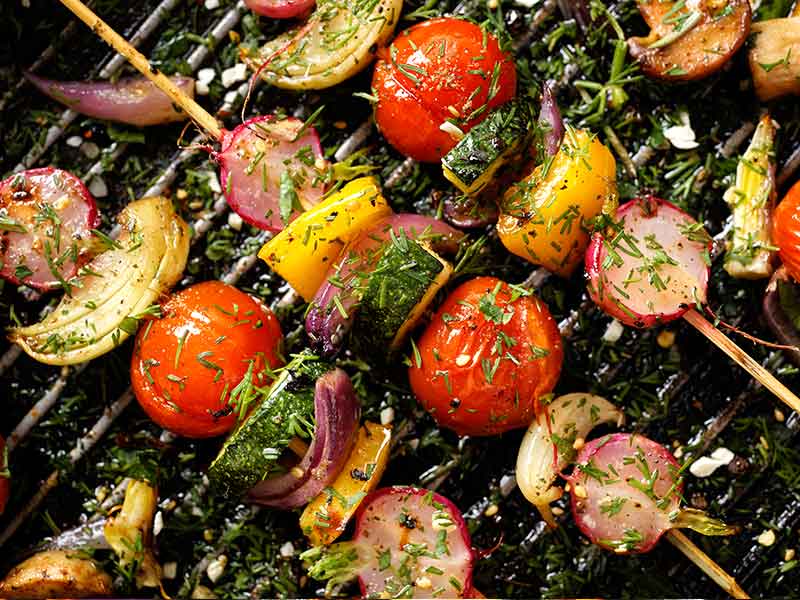 Barbecuing can be very healthy. It doesn't always have to be bratwurst, neck steak and ready-made ketchup. With vegetarian and vegan barbecue products and good fish and meat, you provide many vitamins and vital substances on the barbecue.
Healthy grilling with meat
If you want to grill healthy, you don't have to give up meat right away. There are also great, healthy barbecue recipes for traditional barbecue fans. The rule of thumb is: not too much and not too greasy. The popular bratwurst has a fat content of an incredible 25 percent (a total daily ration of fat!), while a chicken breast contains only about 2 percent and a beef rump about 3 percent fat.
Protein-rich and juicy: beef with lime juice
This recipe is as simple as it is delicious: drizzle a little olive oil and the juice of a lime over the beef rump. Place it on the grill until it is cooked through as you like it. Let it rest for a short time and sprinkle it with sea salt.
Vegetables meet meat: minced meat with zucchini
A particularly juicy minced meat variation is achieved with zucchini. Finely grate the vegetables and fold them into the minced beef, season to taste. Form balls and place them on a grill mat or in a grill tray. It catches the juice that escapes during grilling and the meat stays nice and juicy. This is not only delicious, but also significantly calorie-reduced and healthier than the pure meat variant.
Grilling fish
Fish is rich in protein and the healthy, polyunsaturated fatty acids Omega 3, which the body needs to live. They are active in numerous metabolic processes. If grilled briefly, most nutrients are retained. Grilled fish is a protein-rich snack for muscle building and muscle maintenance.
Fish and seafood only need to be cooked briefly. Grill the meat first and add the fish later. A whole fish takes 10 to 20 minutes, depending on how thick it is, a fillet just 5 to 10 minutes.
Grilling vegetables
They make grilling colourful and varied: delicious vegetables such as corn on the cob, potatoes, sweet potatoes, mushrooms, peppers, aubergines, asparagus and onions. Actually all vegetables are suitable for the barbecue. However, vegetables with a low water content are particularly suitable. They are easy to process and do not become mushy.
Cook vegetables slowly at low temperature (180 to 220 °C). This preserves many nutrients and the vegetables do not become bitter. Peppers and garlic tend to form bitter substances when cooked too hot. Salt vegetables as late as possible to keep them crunchy. This is because salt extracts water from the vegetables.
Barbecued vegetables can be prepared in many delicious variations: as vegetable skewers - pure or with meat, tofu, seitan or cheese, filled with feta, curd cheese or cream cheese, marinated or baked with parmesan cheese. Potatoes, sweet potatoes and corn on the cob can be grilled particularly simply and without any cutting.
Homemade marinade for grilled meat and vegetables
Marinades give meat and vegetables a special touch. The grilled food stays nice and juicy. Simply marinate your barbecue food yourself - so you always know exactly what's in the marinade and avoid unnecessary additives and fats. You can also judge the quality of the grilled meat better yourself. An already marinated piece of meat can also be lying around for a longer time and not be fresh anymore - well hidden under the marinade.
By the way, not all fats are suitable for a grill marinade you mix yourself. Corn oil, butter and margarine, for example, cannot tolerate the intense heat of the barbecue and "smoke". This smoke is then in turn harmful to health. Peanut oil and olive oil withstand the high temperatures well. Add fresh herbs, pepper, salt, lemon or lime, mustard, garlic or chilli to the oil according to your own taste and you have your own marinade. You can put meat, feta cheese, tofu, seitan, zucchini, eggplant or paprika in it and then grill it.
Healthy sauces and dips when grilling
Ready-made grill sauces and dips often contain a lot of sugar, salt and mayonnaise. This is much healthier: With just a few ingredients you can create your own tasty dip for barbecuing or make your own sauce - free of preservatives, colourings and unhealthy additives.
Healthy, vegetarian dips for grilling include homemade hummus, spicy herb curd cheese, a fresh avocado dip or vegan aioli with soy milk and sunflower oil. This goes well with potatoes, fish, meat, tofu, bread and vegetables.
Healthy barbecue ideas: Grill fruit
Fruit also cuts a fine figure on the grill. Pineapples, bananas, apricots and peaches - everything can be grilled. Small and soft fruits are best cut into pieces and lined up on a wooden skewer. Place the fruit skewers on the edge of the grill and grill them only very briefly - fruit is sensitive and burns quickly.
Grilled pineapple is also a barbecue snack rich in vital substances. Simply cut the sweet tropical fruit into slices and place them on the grill with each side for about 30 seconds. Then season with cinnamon and serve.
Almost a grill classic: grilled banana is a low-calorie dessert. The bananas are placed on the grill with their skin on the barbecue, cut lengthwise but not through and filled with cinnamon, cocoa, nuts or nutmeg. Grill duration: about 10 minutes.