Pumpkin - the delicious autumn classic with many vitamins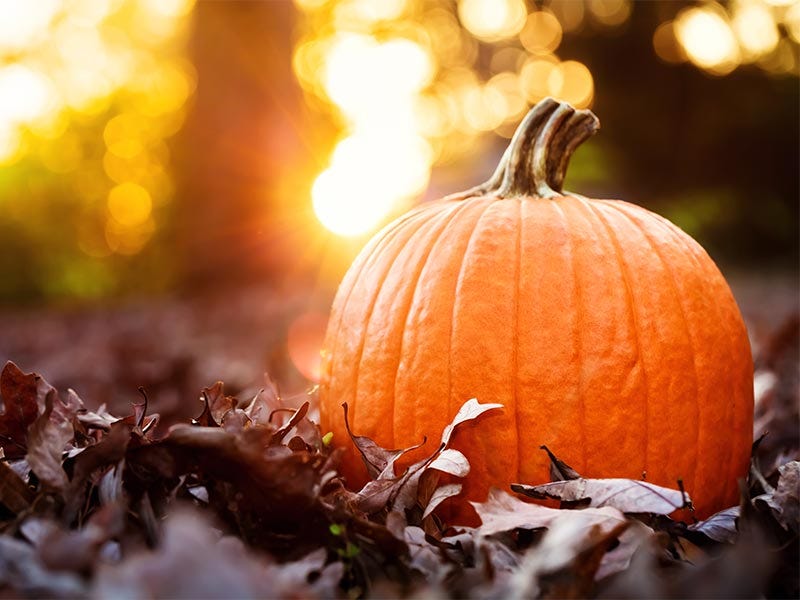 Every autumn we look forward to pumpkins again. Whether Hokkaido, Butternut or Patisson - the healthy fruits simply taste good. (Who would have thought: Pumpkins don't count as vegetables ...) Moreover, they are blessed with valuable vital substances and vitamins and therefore very healthy.
There are numerous beautiful recipes for preparing pumpkins. As soup, oven vegetables, puree, pancake, tarte and muffin, pumpkin cuts a fine figure - as a healthy side dish or as an aromatic main actor.
Can you eat all pumpkins?
No, not all pumpkins are edible. There are edible pumpkins, but also ornamental pumpkins. They should be one thing above all: colourful, bizarre and decorative. They are beautiful to look at - you can't eat them. Ornamental pumpkins often have a particularly thick skin and little flesh. It is simply not worth processing them. Moreover, the flesh is often bitter and causes stomach problems.
When is a pumpkin fresh?
Pumpkins come fresh from the field in autumn. The colourful fruits are harvested from August to November. Here in Germany almost exclusively winter pumpkins are offered. They can be stored for a long time, so that domestic pumpkins are often available until February.
Pay attention to these freshness characteristics when buying: The pumpkin skin is firm and unharmed, and the stalk is still there. A short tapping test shows whether the pumpkin is edible. If the pumpkin sounds hollow, it is still fresh.
What makes pumpkins so healthy?
Many pumpkins have a bright orange colour: this indicates that they contain a lot of beta-carotene, a precursor of vitamin A. And vitamins B1, B2 and B4 (choline) are also found under the bright orange (sometimes yellow, white or green) skin. These are joined by a wealth of minerals such as iron, magnesium, calcium and potassium. Since pumpkins consist of about 90 percent water, they are very low in calories.
What kinds of pumpkins are there?
There are over 800 varieties of pumpkins. Their shapes, colours and sizes vary greatly. Some pumpkins are dainty, filigree and graceful, others are spherical and weigh several hundredweights. Their colouring is varied: orange, yellow, white or green, single-coloured, bicoloured, multicoloured striped or flamed.
The little pumpkin compendium
Hokkaido pumpkin: the orange darling
The bright orange Hokkaido is very popular. No wonder. It tastes pleasantly nutty and is very easy to process: Its shell can be left on during baking and roasting - no need to peel it.
Nutmeg pumpkin: the big eye-catcher
Its artfully furrowed bowl, which glows from green to orange to light brown, looks like it has been painted. The nutmeg pumpkin has a tasty flesh. Its thick skin can be eaten. However, as it takes a long time to cook it soft, it is better to peel the pumpkin when it is cooked for a short time.
Butternut pumpkin: the pear-shaped all-rounder
The pear-shaped butternut has a pale yellow appearance. Its name already suggests it: The butternut tastes deliciously buttery and nutty. This makes it so versatile. Whether baked or fried, as puree, soup, salad or cake - the Butternut Pumpkin is an all-rounder.
Spaghetti pumpkin: the pasta alternative
On the outside, he's almost a little unimpressive. The elongated, beige to yellow spaghetti pumpkin only shows its special feature when cut: it has thread-like flesh that is reminiscent of spaghetti. This makes it a healthy alternative to pasta. Cook the pumpkin as a whole or cut it in half and place it on the baking tray with the skin facing upwards. When it is cooked through, you can easily stir the "spaghetti", season it - and eat it directly from the bowl.
Patisson: the summery mini pumpkin
This pumpkin is a small rarity. Only rarely is it sold here in Germany. If you see it once while shopping, then take it. Take the especially small specimens - with them the skin is still soft and you do not have to peel them. The patisson is often yellowish, white or green, sometimes even has a two-tone pattern. Since the patisson is a summer pumpkin, it can only be stored for a few days. Enjoy patisson pumpkins raw as salad, spicy stuffed or as a side dish with fish and meat.
Turban pumpkin: the eccentric pumpkin
This medium-sized pumpkin has a bulging, cap-like top, which has earned it many names: bishop's mitre, turquoise turban, Aladdin. Because of its extravagant shape, it is difficult to get at the flesh - but the effort is worth it: the pumpkin tastes spicy and extremely delicious. Since the skin is hard and inedible, the pumpkin is simply cut off the cap to get to the coveted inside. Often it is hollowed out and stuffed, cooked or filled with soup - that looks especially nice.
Pumpkin seeds: the crunchy superfood
The strong seeds of pumpkins are not only very tasty, but also rich in healthy fats, fibres, vitamins and minerals such as zinc, calcium, magnesium, iron and selenium, in short: they are a real superfood. However, figure-conscious people often shy away from the high-calorie kernels. But the same applies to pumpkin seeds as to nuts: the polyunsaturated fatty acids are good for the body and support many bodily functions. So enjoy them regularly - and in moderation.