What are Superfoods? A selection of healthy foods - and local alternatives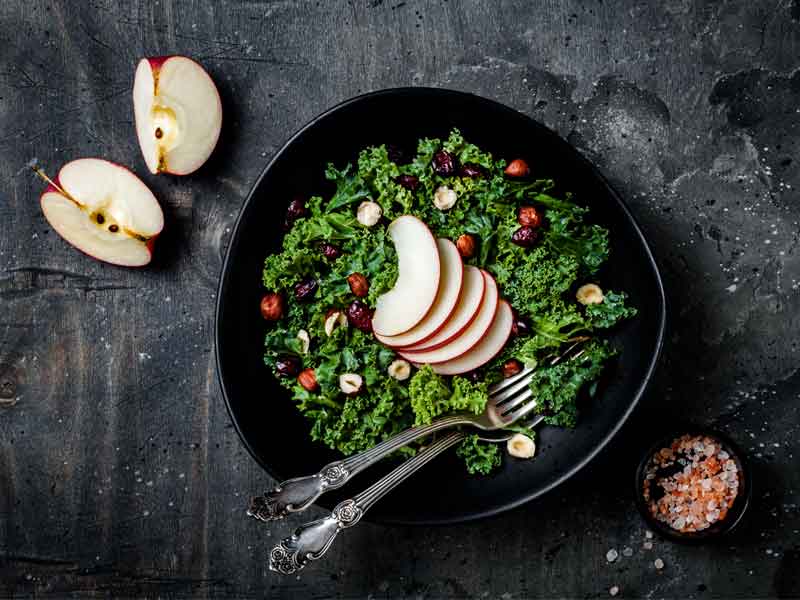 Everyone's talking about superfoods. But what exactly is behind it? Which superfoods are there and which are particularly healthy? We will introduce you to some superfoods, from Acai berries to Chia seeds, turmeric and raw cocoa. And we take a look at the domestic field: because kale, linseed and currants are also true superfoods, in terms of their nutritional richness.
What are superfoods?
There are no binding rules on what constitutes superfood or which foods may be included in it. There is no scientific definition or legal regulation of it.
Superfoods do have one thing in common, however: they have a gigantic nutrient density with a particularly large number of vitamins, minerals, antioxidants and/or secondary plant substances.
For example, certain nutrient-rich berries, algae, seeds, fruits and vegetables that are offered fresh, dried or as extracts in food supplements.
These much-noticed nutrient miracles enhance every meal, as even the smallest amounts contain a great many vital substances. The popular Superfood Chia seed, for example, contains five times as much calcium as milk and has a higher iron content than spinach. Superfoods are ideal for supplementing a balanced diet in a simple way - because they provide many different important nutrients at once.
What should I bear in mind about Superfoods?
They are becoming more and more popular and the range of products on offer in many supermarkets and online shops is increasing. However, it is not possible to give a general answer to the question of whether a food product advertised as superfood is worthy of the name.
These tips will help you with your purchase:
When buying superfoods, make sure that they are as pure and unprocessed as possible or that they have been carefully preserved.
If the superfoods are an "addition" to processed products such as cereal, bars, shakes or rolls, check how much "super" is really in the "food". Often there are only small traces of chia seeds, matcha or goji berries etc. Or sugar, preservatives and aromas have been added to the product, so that the added health value is at least questionable.
With superfood supplements and powders, you can recognise good quality by the fact that the corresponding vital substance is highly dosed and optimally bioavailable.
Many superfoods are exotic and are grown in South America or Asia. However, those who appreciate short transport routes and want to buy regionally will also find numerous alternatives: Because for example parsley, kale, hemp seeds and blueberries have an incredible mix of nutrients - and they oftentimes grow right next door in the fields and forests.
A selection of Superfoods
1. Chia seed
The dark power grains of the Chia plant come from South America and are revered as a health wonder.
How healthy are Chia seeds?
The seeds are rich in omega-3 and omega-6 unsaturated fatty acids, magnesium, calcium, niacin, phosphorus, vitamins A, C and E, as well as proteins and fiber. Chia seeds swell strongly in water and become a gel-like mass. They are therefore considered figure-friendly fillers.
How to prepare Chia:
Simply pour a spoonful of Chia seeds over your cereal and it becomes a real power breakfast. As muesli is usually eaten with milk, this ensures that there is enough liquid. To make Chia pudding, mix cold milk, coconut milk and/or cold water with the Chia seeds and let it swell for a few hours or overnight. You can enjoy the pudding the next morning with berries, fruits or nuts.
2. Raw cocoa
Pure chocolate is delicious, mood-lifting and health-promoting.
How healthy is raw cocoa?
The rawer the cocoa is, the more valuable the ingredients are. Pure cocoa contains a lot of magnesium, nutrients and antioxidants that protect the cells from free radicals. When snacking on raw cocoa, the body releases the happiness hormone serotonin and scares away bad mood.
How to prepare raw cocoa:
As a warm drinking chocolate, for example enriched with turmeric, cinnamon and/or ginger, as a cake or dessert
3. Goji berries
The small red-orange berries of the buckthorn bush have a slightly sour taste.
How healthy are goji berries?
The power fruits contain considerable amounts of vitamins A and C, fibre, calcium, iron, betaines and carotenoids.
How to eat goji berries:
Dried goji berries are available all year round. Fresh goji berries are only available from June to September. The super berries taste great on their own as a snack, or as tea, juice or jam.
Caution: There may be interactions between goji berries and anticoagulant drugs.
4. Turmeric
Turmeric (also known as curcuma) is closely related to the ginger plant and cardamom. The spice is known for its yellow colour and is often found in curries.
The most important ingredient of the turmeric plant is curcumin and other curcuminoids, which are responsible for its intense yellow colour and are considered the biologically active ingredients.
Curcumin is hardly soluble in water and is rather poorly absorbed by the body. The extract of black pepper (piperine) supports the absorption of curcumin and thus the effect of turmeric.
Native Superfoods
For some exotic superfoods there are regional alternatives. These are often cheaper and fresher and also score points with short transport routes and organic quality.
1. Hemp seeds (instead of Chia seeds)
The native hemp seeds do not make you "high", but can effectively protect heart and muscles.
How healthy are hemp seeds?
Hemp seeds are very high in protein. They fill you up for a long time and prevent ravenous appetite attacks, because the blood sugar level remains nice and even. Hemp seeds contain omega-3 fatty acids, which protect the heart and regulate blood pressure. The magnesium contained in it supports muscle building and gives us energy.
This is how you can eat hemp seeds:
Sprinkle a tablespoon of hemp seed on your yoghurt, salad or soup. They also look good in smoothie, cakes or bars.
2. Linseed (instead of chia seeds)
Our next regional choice for the well-travelled Superfood Chia seed is the good old flax seeds.
How healthy are flax seeds?
They have a similar fatty acid structure to the exotic Chia Seeds, many proteins, fiber and so-called mucilages that can aid digestion and disease resistance. Linseed also scores with iron, magnesium, zinc and vitamins B1, B6 and E.
This is how you can eat linseed:
For example as a delicious linseed oil with potatoes and curd cheese; or as ground flaxseed in smoothie or yoghurt - it is important that you drink plenty of water or tea.
3. Black currants and blueberries (instead of goji and acai berries)
The dark berry fruit is really something.
How healthy are currants and blueberries?
Blackcurrants are rich in antioxidants, vitamin C, potassium and anthocyanins, which ward off cell-damaging substances, promote blood circulation and inhibit inflammation. The native blueberries (also known as blueberries) also contain anti-inflammatory anthocyanins, vitamins C and E, minerals and tannins for digestive problems.
This is how currants and blueberries taste best:
Eat berries as fresh as possible: pure, in a fruit salad, with cereal or as juice. If the berries are heated and processed into jam or jelly, valuable ingredients are unfortunately lost. Regional currants are available at the end of June; blueberries from the end of June to September.
4. Kale
Yes, even in the typical winter vegetables are superpowers.
How healthy is kale?
Low in calories and fat, kale has an impressive mix of nutrients including vitamins C, E and K, many antioxidants, minerals and fibre. Kale is said to have anti-inflammatory, anti-inflammatory and cardioprotective properties. It can lower cholesterol levels, counteract premature skin aging and support bone formation.
This is how you can eat kale:
The winter classic is harvested from our domestic fields from October to January. It tastes blanched or cooked, as stew and cold as smoothie.
5. Parsley
Parsley is more than a kitchen spice, it is a local superfood.
How healthy is parsley?
Like many green plants, parsley has a lot of vitamin K, which supports blood clotting and ensures strong bones. Parsley also contains vitamins A and C and many minerals and trace elements.
This is how you can eat parsley:
It goes well with many dishes and salads, potatoes, oriental taboulé and vegetable soups.