Anti-cushion strategy that transforms your diet
Are the extra-pounds your worst enemy during spring and early summer? With a healthy diet, some physical exercise and the most innovative diet products of the moment you will be able to eliminate fat and increase muscle mass. Read on and discover the strategies for an ideal figure!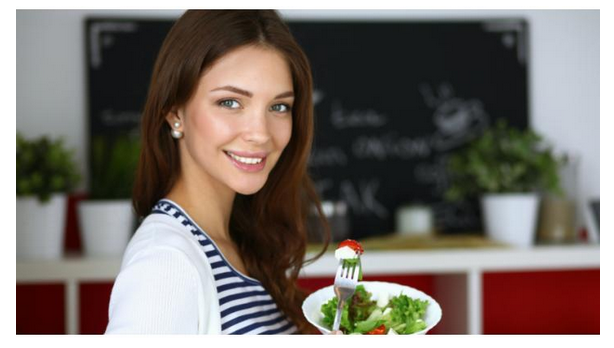 Laziness, emotional hunger, lack of willpower – what's stopping you? 
Laziness: when you get home from work and have a thousand things to do at home, you don't want to think about doing exercises for your belly, legs and buttocks. 
There is an alternative to exercise: take at least one fast paced walk or play soccer with the kids for at least half an hour. This will not only speed up your metabolism, but it is also a great way to fight stress – a big factor in the accumulation of extra pounds. 
Emotional hunger: If you're feeling down or if you're just too tired to do anything else, you get the urge to eat. And it's usually not a low calories cucumber, but a slice of cake or a whole bag of chips. 
Try to think of food as a source of vitamins and minerals and not as an anti stress solution – whenever you get a craving for an unplanned snack, don't head for the fridge, just go outside, redecorate a room, re-make your bed ... The little things can distract and help annihilate any excessive desire for food. 
Lack of willpower: It is difficult to stick to the commitment required by a diet. 
Turn it into a lifestyle: learn to cook new dishes rich in low-calorie ingredients, play with the colours of fruit and vegetables to create healthy and appealing delicacies and transform the conventional diet. You'll get more satisfaction! 
Fight all these obstacles by restoring your ideal

weightusing

the most innovative products [on offer briefly]

Introducing not one, but two revolutionary supplements directly addressing the needs of anyone who wants to dispose of the extra pounds – the special combination of ingredients is 100% natural guaranteed to help you: 
burn fat faster,
restore the balance of body weight,
speed up your metabolism,
fight the emotional hunger. 
And all this: 
without undesirable side effects,
with 100% natural ingredients 
Garcinia Ultra 1000 + Garcinia degreaser Drink 
These are two new generation supplements that will give you more satisfaction in your attempt to lose the extra pounds and dissolve unwanted fat. 
GarciniaCambogia, the main ingredient in both these products: 
is a small fruit that contains hydroxycitric acid (HCA) – an active ingredient rich in slimming properties,
the HCA immediately intervenes and helps regulate body weight,
prevents the storage of fat and inhibits its formation. 
The product Garcinia 1000 1000 mg capsules contains the ultra natural extract of GarciniaCambogia, powered by chrome and green coffee with chlorogenic acid – a winning combination to adjust your weight and speed up your metabolism.
In addition to the amazing properties of the GarciniaCambogia fruit, you will be able to reap the benefits of other 100% natural ingredients found in the product Garcinia degreaser Drink: 
Coral calcium – completely natural in origin, is absorbed easily by the body and contributes to the normal functioning of digestive enzymes. 
Guarana – thanks to its high content of caffeine, it is a natural aid in weight loss and promotes cognitive functions, brinign more vitality and energy into your life 
L-carnitine – fat burning amino-acid with an essential function in energy consumption from the adipose tissue. 
Green Tea – packed with antioxidants and anti-cushioning propertiesproves to be of utmost importance during any weight loss program. 
Ginger – has a major impact on the digestive tract and promotes the absorption of nutrients, but its highlight is the effect it has on the combustion of FAT: regulating digestion, it eases the consumption of energy. 
Enough with the annoying Yo-Yo effect: time for a better metabolic activation with a safe supplement that ensures lasting results. 
After taking the capsule Garcinia 1000, your body is ready to burn calories faster and to set in motion the mechanisms that repair and rejuvenate its cells. 
This is a natural product in the form of a packaged beverage: Garciniacomes in the form of convenient sachets the contents of which you dissolve in water and thus always have on hand. This supplement will help you burn fat faster: even when you're not exercising! 
Check out the two latest generation products on special offer 
SCIENTIFIC STUDIES ON GARCINIA CAMBOGIA: 
1. K. Hayamizu, Y. Ishii, I. Kaneko, M. Shen, Y. Okuhara, N. Shigematsu, H. Tomi, M.Furuse, G.Yoshino, H. Shimasaki; Effects of garciniacambogia on visceral fat accumulation, September–October, 2003 Volume 64, Issue 8, Pages 551–567
http://www.currenttherapeuticres.com/article/S0011-393X(03)00152-8/abstract?cc=y 
2. Ates A., EsenGursel F., Bilal T., Altiner A.; Effect of dietary Garciniacambogia extract on serum lipid profile and serum enzymes in rats fed high-lipid diet, Article 1, Volume 13, Issue 1, Winter 2012, Page 1-7
http://ijvr.shirazu.ac.ir/article_13_0.html 
3. Kim YJ, Choi MS, Park; GarciniaCambogia attenuates diet-induced adiposity but exacerbates hepatic collagen accumulation and inflammation, World J Gastroenterol. 2013 Aug 7;19(29):4689-701
http://www.ncbi.nlm.nih.gov/pubmed/23922466 
4. Preuss HG, Bagchi D, Bagchi M, Rao CV, Dey DK, Satyanarayana S.; Effects of a natural extract of (-)-hydroxycitric acid (HCA-SX) and a combination of HCA-SX plus niacin-bound chromium and Gymnemasylvestre extract on weight loss, Diabetes ObesMetab. 2004 May;6(3):171-80.§
http://www.ncbi.nlm.nih.gov/pubmed/15056124 
5. Onakpoya, S. K. Hung, R.Perry, B. Wider, E. Ernst, The Use of Garcinia Extract (Hydroxycitric Acid) as a Weight loss Supplement: A Systematic Review and Meta-Analysis of Randomised Clinical Trials, Journal of Obesity, Volume 2011 (2011), Article ID 509038, 9 pages
http://www.hindawi.com/journals/jobe/2011/509038/ 
6. Kim JE, Jeon SM, Park KH, Lee WS, Jeong TS, McGregor RA, Choi MS; Does Glycine max leaves or GarciniaCambogia promote weight-loss or lower plasma cholesterol in overweight individuals: a randomized control trial, Nutr J. 2011 Sep 21;10:94. doi: 10.1186/1475-2891-10-94.
http://www.ncbi.nlm.nih.gov/pubmed/21936892 
7. Onakpoya I, Hung SK, Perry R, Wider B, Ernst E.; The Use of Garcinia Extract (Hydroxycitric Acid) as a Weight loss Supplement: A Systematic Review and Meta-Analysis of Randomised Clinical Trials, J Obes. 2011;2011:509038. doi: 10.1155/2011/509038. Epub 2010 Dec 14.
http://www.ncbi.nlm.nih.gov/pubmed/21197150 
8. Jena BS, Jayaprakasha GK, Singh RP, Sakariah KK.; Chemistry and biochemistry of (-)-hydroxycitric acid from Garcinia, J Agric Food Chem. 2002 Jan 2;50(1):10-22.
http://www.ncbi.nlm.nih.gov/pubmed/11754536 
9. Preuss HG, Rao CV, Garis R, Bramble JD, Ohia SE, Bagchi M, Bagchi D; An overview of the safety and efficacy of a novel, natural(-)-hydroxycitric acid extract (HCA-SX) for weight management, J Med. 2004;35(1-6):33-48