A few months ago, we received a testimonial from a lovely Sensilab customer who wanted to share an amazing success story with us and everyone who might read our blog! We asked her a few questions to learn more about her and her transformational story.   
Below is the 1-on-1 virtual interview our Eva conducted with her.

Eva from Sensilab: Tell us a bit about yourself! 
"My name is Lenka, and I'm from the Czech Republic. I'm currently on maternity leave, and in my spare time, I love spending time with my children!"  
Eva from Sensilab: It's nice to meet you, Lenka! Thanks for sharing your story with us. Can you tell us why you decided to give Sensilab products a try?
Lenka: "I gained a lot of weight after my pregnancies. I used to have a more athletic and sculpted figure. But then, after I gave birth, the kilos remained, and I wanted that to change. I was bloated and even had swollen heavy legs."   
"So, when I came across Sensilab online, I decided to give it a try, hoping that it would maybe help me. The listed ingredients in the products seemed high quality and of natural origins, and overall, the reviews were very promising!"  
Eva from Sensilab: Which Sensilab products did you try? And how long did you try them for?
Lenka: "Well, I discovered Fat Out! ThermoBurn over a year ago, and I've been using it regularly ever since."
Eva from Sensilab: What were your first impressions of the product when you started taking it?  
Lenka: "To be completely honest, I didn't notice the changes at the very beginning. It was actually my friends who pointed out something about me was changing after about a month of taking it!"   
"And then I realised shortly after that I was getting smaller indeed: my clothes didn't fit anymore and were starting to fall off my body. I was pleasantly surprised!"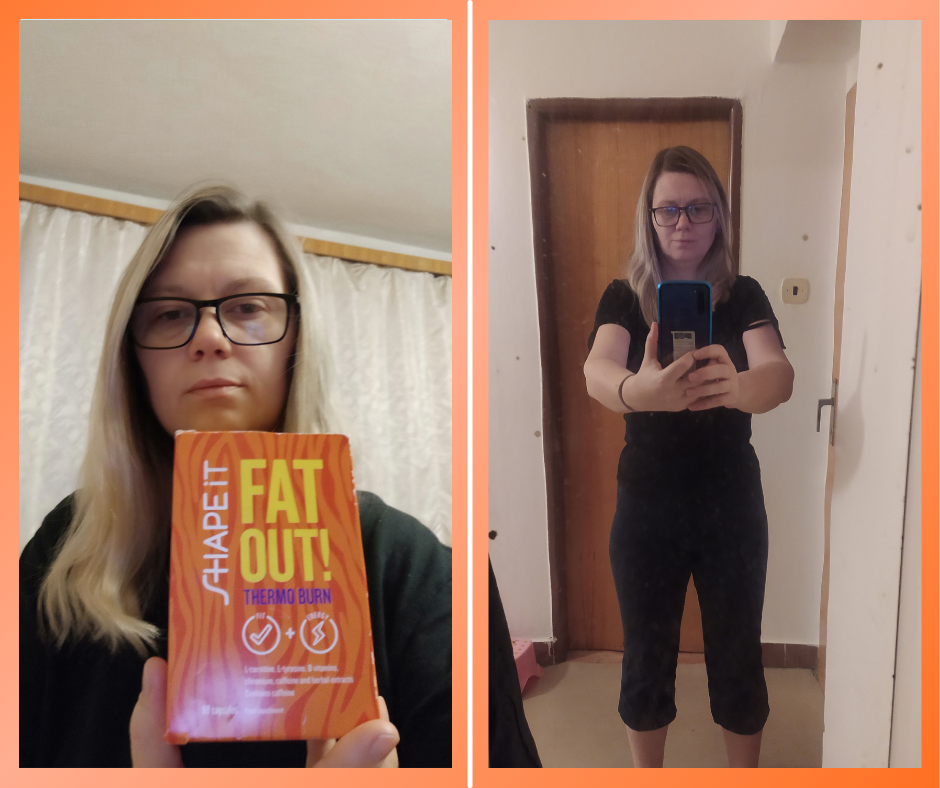 Eva from Sensilab: "That's great to hear! Now, after a year of taking FatOut! Thermoburn, can you tell us a little more about all the changes you experienced after the first initial effects?"  
Lenka: "The most obvious result that came within a whole year of taking it was the weight loss. I lost 20*kg! I needed to replace my entire wardrobe; my clothes were falling off me and didn't fit at all anymore."  
"But there were also some other positive effects besides the weight loss. Overall, I can definitely say I'm doing really well right now. I have no health problems, and even my mood has improved! My feet and legs are no longer swollen, and this helps me move and improve my physical activity."
We'd like to say a huge "Thank you!" to Lenka for her sharing her incredible story with us! We're always so happy to hear our amazing customers' success stories! It truly makes our day because our main mission has always been to help people change their lives for the better: to help them feel better in their bodies and minds.   
FatOut! Thermo Burn is the ultimate product for increasing fat burning and boosting the metabolism! Get this amazing limited-time discovery offer today!  
*Disclaimer: The effects of the product may vary between individuals and could differ from those described on the website. Our products are not intended to prevent, treat, or cure any disease or serious illness. Maintaining a balanced diet and a healthy lifestyle is important.