Peter has a brighter smile thanks to TeethTox!
Peter is an active young man and works as a barber. He was looking for a product that could help him whiten his teeth without time-consuming and expensive dental procedures.

By chance, he came across Sensilab online one day. Convinced by the affordability and the natural ingredients, Peter decided to try our TeethTox Whitening Light Kit. Discover his amazing story below!
"I noticed the first results after just a week*!"
Peter felt very excited when his package arrived: "It came in nice minimalist packaging. I was very intrigued by the blue LED light."
He was happy to learn that the process isn't time-consuming at all and that you only needed to use the LED light for 10 minutes a day.
It didn't take long for Peter to see the results either: "I noticed the first results after just a week*."
Did you know...?
Teeth discolouration can come from the inside or from the outside. Outside (extrinsic) discolouration (when teeth become stained because of food, certain beverages or smoking) is more common and can be treated with whitening products.1
5* shades whiter teeth
Using the shade guide he received with the kit, Peter tracked his results. When he started, he matched the shade of his teeth to a 4 or 5 on the scale: "After a week, I was at shade number 7* and today I'm at a 10*, maybe even 11*."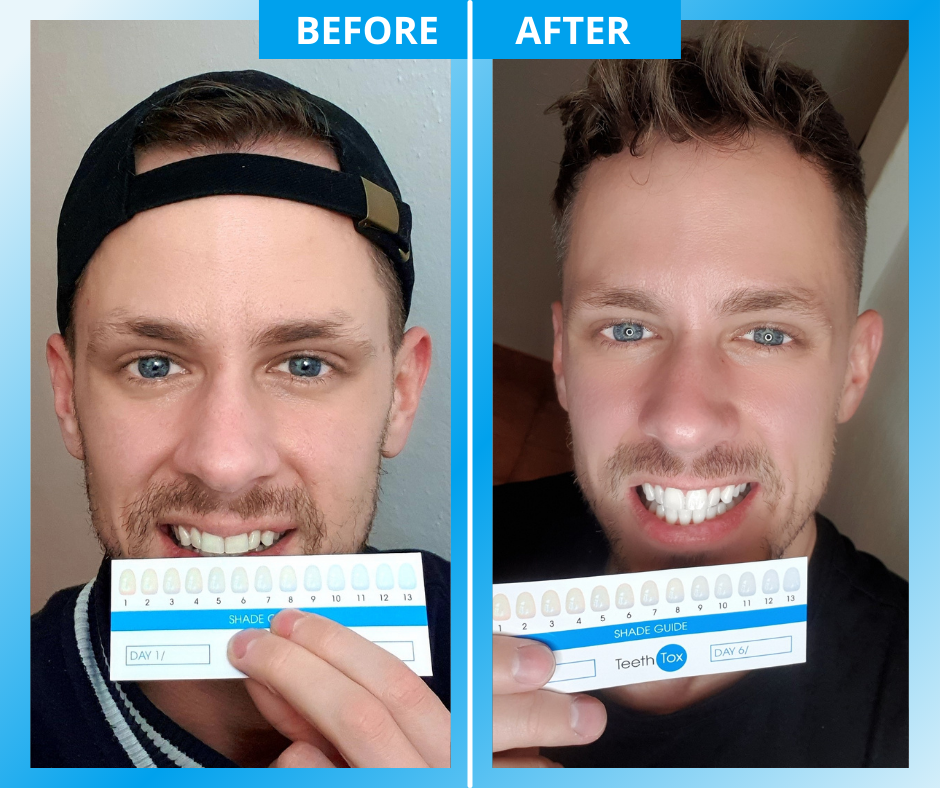 Peter's pearly-white smile had a positive effect on his mood too: "I feel more confident, and I smile more often!"
Did you know...?
Smiling has numerous health benefits! Apart from the obvious - decreasing stress and boosting endorphins, which help lower our blood pressure – recent studies also suggest smiling might help boost our immune system. 2
"Better than the competition"
When asked if he would recommend TeethTox to others, Peter enthusiastically responds: "It's definitely a must-try product, the price is excellent and it's better than the competition! I would happily recommend it to my friends."
TeethTox Whitening Light Kit – for a brighter, more confident smile in no time!
This clinically-tested and enamel-safe kit contains a LED light, 2 mouth trays, 3 tubes of whitening gel and a shade guide, so you can easily track your progress. It provides noticeable results with just 10 minutes of use per day:
Effectively whitens teeth from food, wine, coffee, tea and cigarette stains
3 shades whiter teeth after a single treatment
With added calcium, vitamin E and aloe vera
No peroxide, which means no pain or sensitivity
The TeethTox Whitening Kit is super easy to use – use it at home while cooking, applying make-up or watching TV. The non-peroxide formula means you can safely use it for up to 6 days in a row.
Get a limited-time discount and join Peter and other happy TeethTox customers NOW!
If you've bought TeethTox in the past, maybe it's time for some refills. Get a special discount now!
*Disclaimer: The effects of the product may vary between individuals and could differ from those described on the website.
Sources:
1 Silver, N. (2018, June 5). Is teeth whitening safe? Healthline. Retrieved April 22, 2022, from https://www.healthline.com/health/is-teeth-whitening-safe
2 National smile week: 10 fun facts about smiling. Community Home Health Care. (2015, August 10). CommHealthCare. Retrieved April 22, 2022, from https://commhealthcare.com/national-smile-week-10-fun-facts-about-smiling/