Meal Prep - Pre-cooking for stress-free and healthy nutrition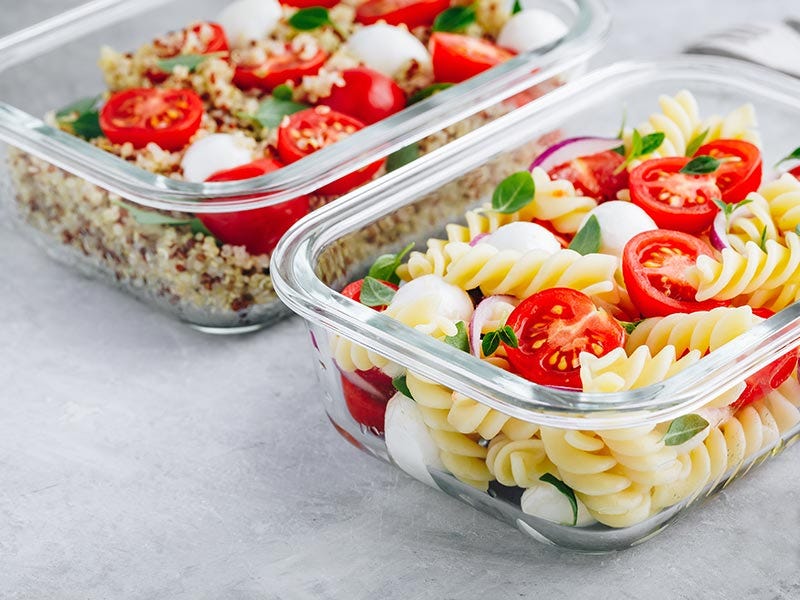 Deliberate pre-cooking for the next few days is becoming increasingly popular, and "Meal Prepping" promises a refrigerator full of healthy, pre-cooked dishes - without having to invest a lot of time in cooking. Perfect for the nutrition-conscious, working people, families and singles.
When time and energy are lacking
Every day we ask ourselves the same question: What are we going to eat today? For some, pure stress. Because something is always missing: the right ingredients, tasty recipe ideas, the desire to cook or simply the time. That's where quick ready meals and unhealthy snacks come in.  
If you want to eat more healthily, there is (usually) no way around cooking for yourself. With the clever "Meal Prepping", cooking is child's play - even for the inexperienced, stressed and unmotivated. 
The idea behind Meal Prep is to plan ahead for several days, cooking dishes that are rich in vital substances and vitamins and can be varied in a variety of ways. Then portion everything and simply warm it up when the stomach growls. 
By preparing and planning ahead, you save time and also money. You only buy what you really need and no longer waste food.
Meal Prep is right for many!
Meal Prep for families: Thanks to targeted pre-cooking, there is something delicious to eat every day for mum, dad and the children, for the office, for the playground or for dinner together. The daily cooking stress with children at the tip of your skirt is eliminated, not to mention short visits to the supermarket ("we still need potatoes ..."). Thanks to Meal Prep, the entire week's shopping can be easily planned in advance.
Meal Prep is ideal for allergy sufferers or people who eat gluten-free, vegan, etc. and can't always find the right food for themselves in the canteen or on the road.
Meal Prep for working people: Often after long working days there is not enough time to cook at leisure. You would rather relax, do the laundry, meet friends or go to the gym again. So what could be better than a pre-cooked meal in the refrigerator? Just warm it up a little, and you're done! Of course Meal Prep is also ideal for the lunch break. If you no longer feel like eating curry sausage, kebab or canteen food, precook something delicious and nutritious - and simply enjoy. Plus point: Meal Preppers don't fall into the midday slump after lunch full and powerless, but continue to work full of energy.
Meal Prep for singles: Cooking for yourself every day is not so much fun. Often an (unhealthy) snack or a frozen pizza does the trick. With Meal Prep, cooking is reduced to a minimum and people living alone are satisfied for the next 2 to 4 days - and treat their bodies to something good.
Meal Prep for newly born mums and dads: Mums need endless energy in the puerperium and in the first months after the baby's birth. Breastfeeding, feeding, carrying and comforting, little sleep - everything revolves around the baby. And shopping or cooking is hardly an option. When the stomach growls again, the new parents are saved by healthy pre-cooked food through many a low form.
Meal Prep for people who want to eat healthy food: Who has an overview of what's in ready-to-eat meals, fast food and the like? The solution: You cook for yourself. Then you can consciously avoid unnecessary additives, flavourings and harmful substances and decide for yourself what quality the vegetables, fruit and meat are. If you opt for organic quality, short transport routes and regional as well as seasonal ingredients, you will get tasty, nutritious and energetic dishes. And to make continuous cooking easier for you, Meal Prep is an ideal way to always have fresh and healthy food at hand - without getting into time-stress or having to constantly think about what to cook next. 
What you need for Meal Prepping
1. Get yourself a couple of good keep-fresh boxes that are stable, leak-proof and tasteless as:
Stainless steel boxes (There are also boxes with individual compartments. This way the food does not swirl around and stays in its place).
Freshness boxes made of glass (Some are also suitable for the oven, freezer or microwave).
LunchBots or lunch cups for snacks, cereals or soups (The two-in-one containers store liquids (like soup) and crunchy foods (like croutons) separately).
Screw-top jars like old jam jars are also ideal for dishes such as couscous or soups. 


2. Select a few recipe ideas that can be varied for dishes that can be pre-cooked. You can vary them a little so that you do not have to eat the same food every day.
3. Plan your week in advance: What would you like to cook? How can this be varied over the days? What ingredients do you need? Then it's time to write the shopping list and go shopping.
How to start with Meal Prepping
Meal Prepping is a new habit for you. Until it is firmly integrated into your everyday life and runs by itself, it still needs a little routine. Set a fixed day in the week (e.g. Saturday) to plan the week's culinary activities, write a shopping list and buy all the ingredients you need. 
The next day you cook and pack all dishes into the storage containers.
Then - depending on the amount of food cooked - you will be provided with fresh and healthy dishes for 2 to 4 days.