Tips for a successful change of diet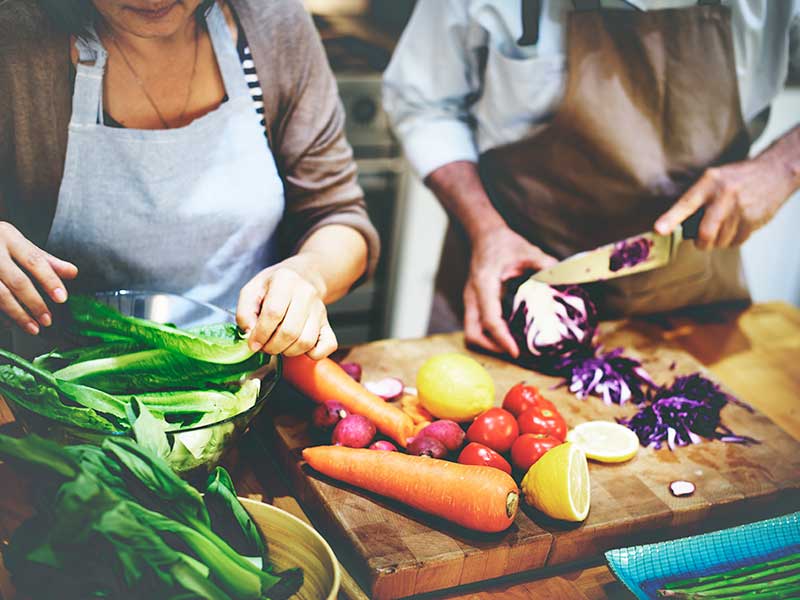 Do you ask yourself how you can manage to eat healthier food in the long term? Are you looking for practical tips to help you make the change in diet? Do you want to feel even better in your skin and become fitter? - We have summarised everything you need to know about the pantry, shopping list and finished products for you.
Success begins in the mind
If you want to make a permanent change in your diet, approach your project with enthusiasm and vigour. Look forward to the changes you will experience.
From now on you will be providing your body with good nutrients - many minerals, micronutrients, trace elements, vitamins, healthy fats and little sugar (maybe none at all if you can manage it).
This is a great decision! Your body will thank you for it. You will feel fitter, lighter and more satisfied.
Make it easy on yourself
Healthy food = bad mood? It doesn't have to be. Eating can be fun. If you change your diet, then design your menu in such a way that you really get an appetite for it. Experiment a little with the foods, season them with a new herb mixture or try out a new recipe.
Do not force yourself to eat a healthy food that you do not like. There are many alternatives that you will enjoy.
What is healthy food?
Minerals, nutrients, vitamins and healthy fats contribute to a healthy diet. Fresh fruit and vegetables, fish and a little meat as well as complex carbohydrates and healthy fats are allowed. You should avoid sugar, additives, colourings and unhealthy fats. You will often find these in (heavily) processed foods.
The easiest way to eat healthy food is to cook it yourself. Avoid ready-to-eat products, processed foods and fast food. They often contain an unmanageably long list of additives, preservatives and unhealthy ingredients and are of inferior quality. It is also difficult to trace where the individual food components come from and under what conditions they were produced.
The best choice is simple and untreated ingredients that are as pure and natural as possible. Seasonal fruit and vegetables from the farmer or from the weekly market are a good basis for many dishes and snacks. Often only a few ingredients are needed to conjure up a really tasty and nutritious meal of the best quality.
You should always have this in your pantry
Clean out your storage cupboards at the beginning of the change of diet: All unhealthy products you use up or give away.
Ready-to-eat products, fast food and sugary foods are best given way to a healthy basic selection of healthy pulses, wholemeal rice and pasta, quinoa and millet, almonds, nuts, seeds and dried fruit.
Cheating allowed – these foods can be easily replaced
Vanilla pudding / chocolate mousse = Chia pudding e.g. with almond milk
Frikadellen = roast vegetables made from zucchini, sweet potatoes or mushrooms
Milk chocolate / sweet = almonds, hazelnuts, dates, apples with cinnamon
Chocolate spread = avocado spread made from bananas, cocoa powder and avocado
Ready-made fruit yoghurt = pure yoghurt with fresh fruit, nuts, chia and coconut flakes
Cornflakes = homemade muesli
Meat = high protein chick peas
Ready-made sauces = fresh herbs and homemade dressings
Small sins are allowed
If you should "sin" something in between, that is perfectly okay as long as you do it in moderation.
Maybe you'll also look for a new snack that won't make you feel guilty: for example, pure nuts, dates or dark chocolate. These foods are rich in valuable nutrients and much healthier than a greasy burger, milk chocolate or jelly babies.
Cooking and planned shopping
If you start to prepare your own food regularly, you will soon get a good feeling for what you are actually eating and what is good for you. You can then gradually incorporate these experiences into your diet.
It is helpful to make a meal plan for the next few days or the whole week. In it you can note down all the dishes and snacks you want to eat. In this way your shopping list practically writes itself.
The advantage: You save time, always have all the important ingredients in the house and never go shopping hungry (this way you avoid impulsive mispurchases). It also settles the everyday, energy-sapping question: "What do we want to eat today?"
Meal Prepping saves time
If you are cooking, prepare larger quantities immediately so that you can eat at least twice. This way you do not have to cook every day. You can take the prepared food with you to work or simply warm it up quickly for dinner.
If you manage to do so, you can also precook and store it in portions for the next few days or a whole (working) week. This Meal Prepping, which is particularly well known in the USA, is also becoming increasingly popular.
+++ Read our magazine article "Meal Prep - Precooking for stress-free and healthy nutrition" now +++
Eat with your eyes
It is not only important what's on the plate, but also how the plate is arranged. Celebrate your meal properly. Arrange the dish nicely. Maybe take your particularly pretty dishes out of the cupboard. Drink something refreshing with it, for example a homemade cucumber water or a water with lemon and mint.
Eat in peace and without hurry.
Change of diet at a glance
A change of diet not only has a positive effect on your weight, but also on your immune system, metabolism, fitness and well-being. You will feel good all round.
With these tips, you will be able to eat healthily in the long term:
Prefer fresh fruit, vegetables and fish
Muck out the pantry
Planned shopping for the whole week
Cooking on your own and in stock
Choosing the right treats
Celebrating the meal