Henna: "It finally feels like I'm leaving my problems behind"
Henna is a 34-year-old Factory Team Leader from Finland, who's long been battling with her weight fluctuation and severe lack of energy. Thanks to Sensilab products, she finally managed to turn her life around – and the results are amazing!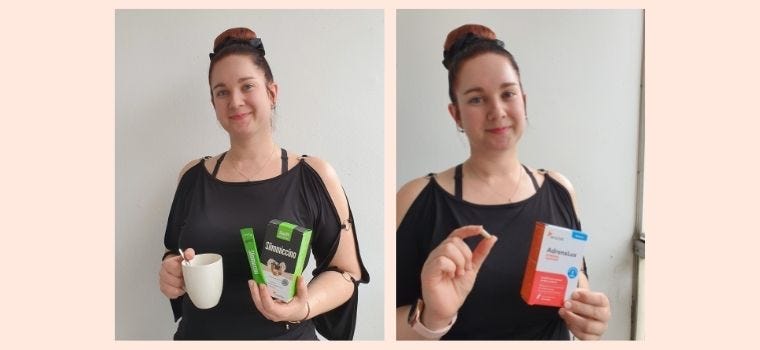 Henna found herself in a difficult situation
"I work as a team leader. My workdays are normally filled with different activities and I have to be sharp from start to finish. I used to consume up to 5 cups of strong coffee during a workday," she says.

"When I got home, I was usually so exhausted that I left all the cleaning and dishwashing for Sundays, as I spent my Saturdays recovering from the workweek. I've come close to burnout twice in the last 1.5 years," she reveals.

As if that wasn't enough, there's more.
All the stress also affected her appetite & mood

"I was hungry all the time and so I was always snacking," she says. This led to weight gain sneaking up on her: "It's easy to gain weight when you're snacking constantly, especially when you're not actively exercising."

As a result, Henna, like many other women around the world, didn't feel good in her own body. And this took a toll on her mood, confidence and way of life. "My body often affected my mood. I wanted to dress beautifully and look sexy but because of the extra pounds, I didn't feel comfortable in anything other than a T-shirt and loose shorts."
But then she found a solution

She came upon Sensilab products while browsing social media. The one that especially caught her attention was Slimmiccino. Realising it directly addresses her problems, she knew she had to try it.

"My body was in dire need of help. Losing weight in combination with boosting my metabolism, was exactly what I'd had in mind, for a while. I also wanted to alleviate the effects of stress, which was one of the many reasons why I wanted to try AdrenaLux too."
First results within 3 days

Henna was stunned by how quick and drastic the changes were.

"I am energetic every day from morning to afternoon, and I no longer have the need to drink excessive amounts of coffee." She also noticed less bloating and swelling, her digestion was in top condition, and her sleep improved considerably. But there's more.

"The overwhelming constant feeling of hunger is gone, and I no longer have to snack all the time. My sugar cravings are gone too. The reduction in hunger and snacking will without a doubt translate into better self-esteem and more weight loss in the future," she adds.

And she couldn't be happier for it. "Finally, it feels like my body is healing and I'm leaving my problems behind."
Slimmiccino - the superman of cappuccinos for effective weight loss and a kick of energy!

Slimmiccino's 4-in-1 action can help you boost fat-burning, suppress appetite, reduce fat accumulation and elevate your energy levels. It's just like your regular morning coffee but with slimming superpowers. Weight loss has never been easier – or as delicious!