Tina: "I honestly believe that UNDO Collagen Drink helps me enormously!"
Tina, aged 61, is a social worker, who is currently also acting as a caregiver to her 96-year-old mother. When time allows, Tina enjoys reading, meditating, spending time in the company of her friends and watching the occasional film or series.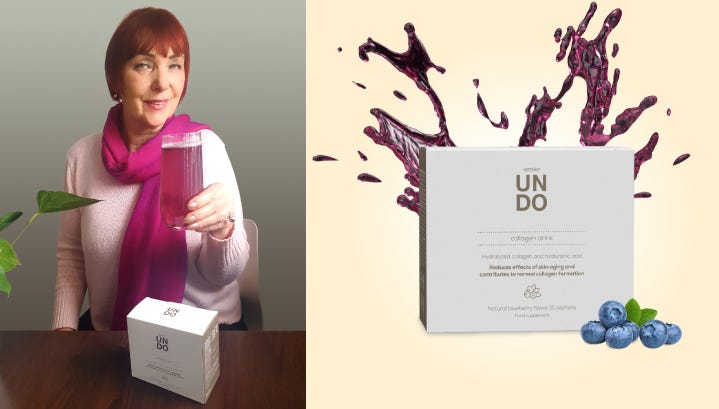 When asked about her skin type, Tina says: "Given my age, my skin is mature. My hair has always been thick but very fine. All in all, despite the changes my skin has gone through throughout the years, I'm generally rather happy with the way I look and feel at 61."
That doesn't mean that Tina, like all of us, wouldn't want to bring back her youthful skin complexion and improve her overall fitness and agility!
A strong advocate of natural products
"I've known Sensilab for a long time as it's a renowned brand in Slovenia. It was my daughter who introduced me to UNDO products. I decided to give it a try because I'm a strong advocate of natural ways of keeping a healthy and youthful appearance of my skin. 
I was also familiar with the benefits of hyaluronic acid before, so ordering my first UNDO Collagen Drink was an obvious choice as it features a mix of both collagen and hyaluronic acid." 
Collagen + hyaluronic acid = outstanding combination
Collagen is the most common protein in our body and the building block of skin tissues. Because its production decreases with time, supplementing it is a must if we want to achieve a regeneration of skin from the inside and regain its elasticity and firmness.
One of the main functions of hyaluronic acid is hydration – 1 gram of hyaluronic acid can bind up to 1 litre of water. This hydrates the skin and makes it plumper which is the best way of making the lines and wrinkles disappear.
In addition to Tina being familiar with the above, she found the UNDO Collagen Drink extremely tasty (natural blueberry flavour) and convenient as it comes in sachets, making the product perfect to take with you anywhere.
"I've been using it for 6 months already, daily, and I'm very content with the enhanced health of my skin, hair and nails."
The first results? After just two months!
The first results showed already after two months. "I like the way my skin feels: nourished and plump. As years have gone by, I noticed my skin was getting dry and less supple, but now it's suppler and firmer. While the biggest difference was to my skin, I'm also noticing my hair getting thicker."
To wrap it up, how does Tina feel after using UNDO Collagen Drink for already 6 months? 
"I feel good and self-confident. I am grateful to have found a dietary supplement that in fact does wonders. Having used it regularly, I honestly believe that it helps me and that it slows down the ageing of my skin. While I'm satisfied with the powder, I'm also looking forward to trying out collagen in the form of vials!"
*Results may vary.