We have a winner!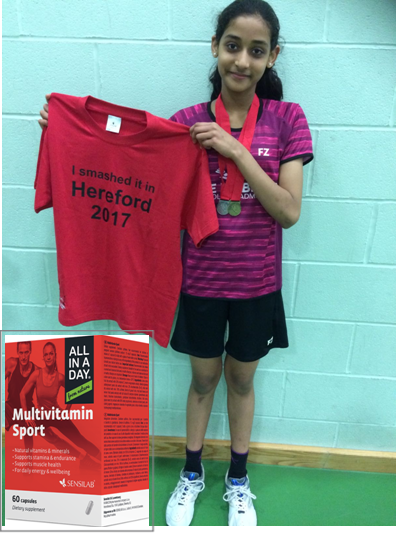 Congratulations to our rising star Ms. Ashwati Nair for winning the U18 Herefordshire Badminton tournament on 4th Feb 2017. Keep it up the great work!
Our All in a Day Multivitamin Sport supplement contains Magnesium derived from Natural Marin sources, Siberian Ginseng with 2% eleutherosides which help boost your physical and mental capabilities to peak levels during periods of weakness, exhaustion, and tiredness. Each capsule is packed full of vitamins to enhance your performance no matter what the competition, these include:
Vitamins B2, B3 and B5 help alleviate tiredness and fatigue.
Vitamins B1, B6 and folate contribute to normal psychological functions.
Vitamin E and selenium helps protect cells from oxidative stress.
Grapes have antioxidant qualities.
The All in a Day Multivitamin Sport is perfect for all forms of exercise, supporting stamina, muscle health and daily wellbeing. Helping transform you from a workout novice to an exercise guru!